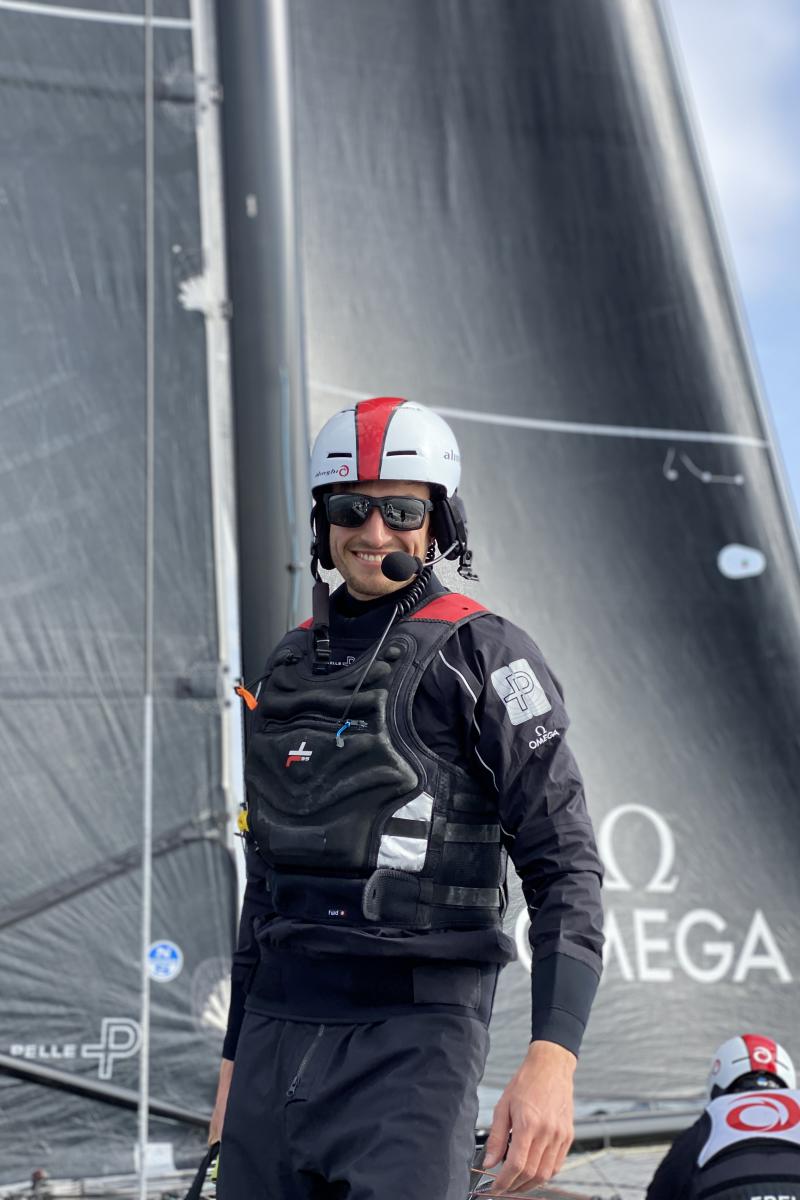 Florian Trüb
TF35 & GC32 spare crew
Born:

10 April 1994

Nationality:

Swiss
When Grandpa and Grandma arouse a vocation...From the age of five years, Florian spent his weekends and one week every summer on his grandparents' boat on Lake Constance. "At that time, I was not yet a fan of sailing. I played handball from nine to 16 years old until I got injured and then decided to switch to another sport." In 2010, he discovered the fun of the dinghy (420, 470), but, quickly, the competitive spirit took over. Florian started to race in Blu 26, M2 and, at sea, Baltic 50.
The summer of 2016 marked a turning point with his selection for Team Tilt to defend the colours of Switzerland in the Youth America's Cup 2017, with a nice 3rd place.
Other highlights of his career include a victory in the Bol d'Or at Lake Constance in a monohull in 2014, a 4th place overall on the Fastnet 2017 aboard a 46-footer and several podiums in GC32 and D35.
From his experiences having raced with Tilt, Team Eleven, Black Star, Swiss Foiling Academy and Ylliam Comptoir Immobilier, Florian has accrued the advantage of having sailed on many different boats and of having worked with several different operations in terms of preparation and communication, all of them equally beneficial to his development.
At Alinghi, Florian is a spare sailor on the TF35 and the GC32. He is also a reinforcement for the technical team and supports Yves with electronics and performance analysis. Well-versed in the practice of boat preparation following his position as an assistant at Tilt, as well as for Simon Koster's Mini prototype 888 and Class 40, Florian is no exception to Alinghi's rule that each member of the team should be multi-skilled.
Having imagined himself becoming a primary school teacher, then an architect, Florian eventually followed in his big brother's footsteps and completed a Bachelor of Materials Science Engineering in 2019. While today Florian wants above all to pursue a career in professional sailing and be on the water as much as possible, he first wanted to study to build his technical skills and to secure his future.
As with Bryan, Florian loves versatility aboard a boat and has trained in the bowman, headsail and foil trimmer positions. He admits to a fondness for ocean racing and the America's Cup. Speed and competition make his pulse race. "I like to win. I accept losing, but not too often," he admits with a smile.
Team spirit is essential for him and this is also what drives him to participate in the Lake Constance Bol d'Or, in partnership with a friend on a Luffe 40 every year.
Despite his height of 1m92, Florian still touches 80kg thanks to a specific physical preparation and diet. Given the maximum weight gauge for the entire crew will come into play, and as a newcomer, this was one of the fundamental points of the recruiting specifications. Youth and being Swiss were also part of the equation, as was the desired dual competence...
For his pleasure, Florian swallows kilometres on his road bike and loves to cook. Then recently, following discussions with the director of the Alinghi team, he discovered a new passion for jogging in order to reach and maintain his weight goal ;-)