D35 and GC32 on Alinghi's menu for 2018
27 February, 2018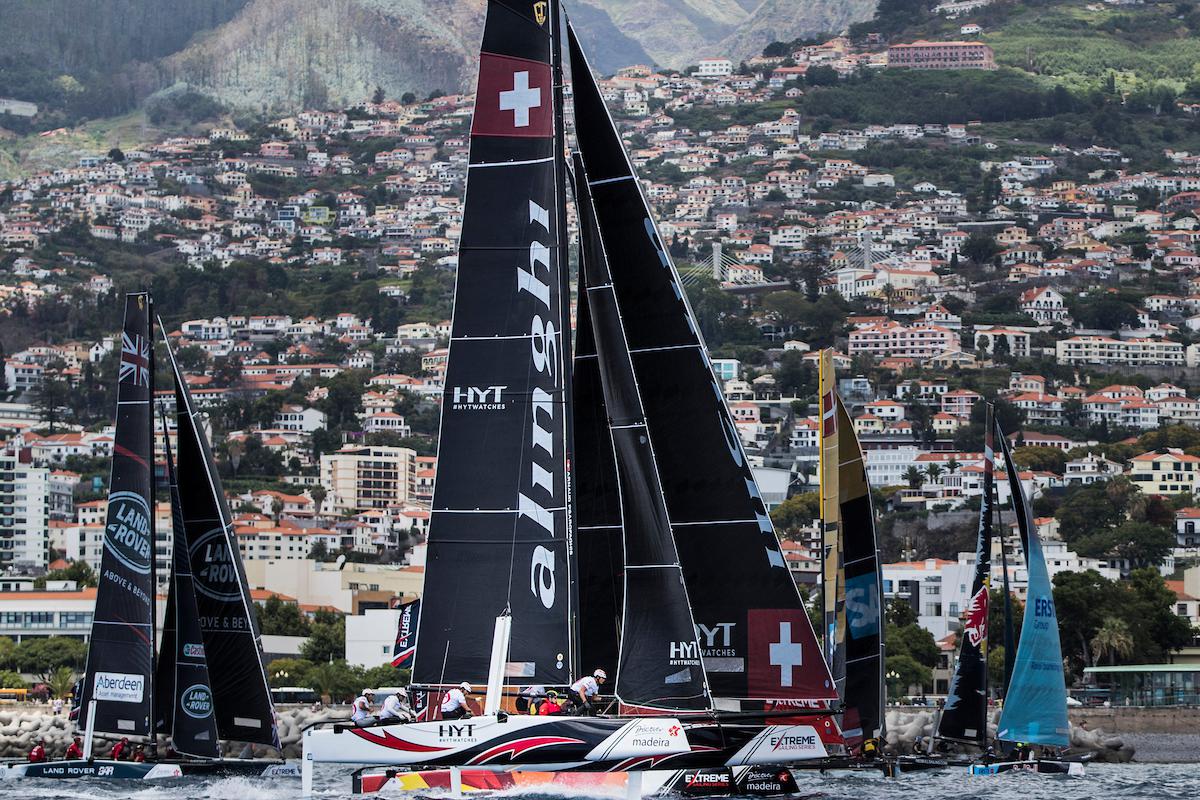 As in previous years, Alinghi's programme for 2018 will include D35 racing on Lake Geneva in the 15th edition of the D35 Trophy, as well as GC32 foiling on courses around the world in an 8th season for the Team on the Extreme Sailing Series. There's a special bonus too: The first GC32 World Championship.
In the D35 Trophy, after having come within a whisker of recording a grand slam in 2017, the team will give its everything to notch a 7th victory in the Championship. The one-design circuit, which combines the ultimate competitiveness on the water with friendship among teams off it, enters its 15th season this year.
Also to be watched closely this year is the 80th Bol d'Or Mirabaud, which will start on the 9th of June and will feature some 500 boats. Will the D35 manage to hold its own against the foiling boats? The battle to win this anniversary edition of the classic race promises to be exciting.
Regarding the GC32, the team remains convinced that this 32ft one-design catamaran is the ideal vessel upon which it can continue its progress in foiling and that the Extreme Sailing Series offers the toughest test in this type of competition. Alinghi will therefore relish challenging for a title that it has won previously in 2008, 2014 and 2016. This year, the Series will, again, see international teams racing on eight courses across three continents.
Finally, just before the end of May, the first GC32 World Championship will take place on Lake Garda, with the class having been officially recognised by World Sailing (the International Sailing Federation). Bringing together the competitors from the GC32 Racing Tour and from the Extreme Sailing Series, about 15 flying boats can be expected on the same start-line. It promises to be adrenaline-filled sailing, with the races around the marks sure to be full of tension.
Not long now, then, till the start of the season in Muscat, Oman, mid-March.
ABOUT          
The Team
Sailors
Helmsman and Skipper: Ernesto Bertarelli (SUI) – D35 and GC32
Co-Helm and Co-Skipper (GC32) and mainsail trimmer (D35): Arnaud Psarofaghis (SUI)
Tactician: Nicolas Charbonnier (FRA) – D35 and GC32
Headsail trimmer: Nils Frei (SUI) – D35 and GC32
Foil trimmer: Timothé Lapauw (FRA) – GC32
Floater: Coraline Jonet (FRA) – D35
Bowman: Yves Detrey (SUI) – D35 and GC32
Technical Team
João Cabeçadas (POR)  /  David Nikles (SUI)  /  Claudy Dewarrat (SUI)
Team Director
Pierre-Yves Jorand (SUI)
Click here to learn more about the team.
Club
Société nautique de Genève
2018 sporting calendar
Find the dates for each event by clicking here.
To find out more
d35trophy.com  /  extremesailingseries.com  /  gc32worlds.com
#GoAlinghiGo  #D35Trophy  #Extremesailing