Discover the Speedmaster ALINGHI
25 July, 2020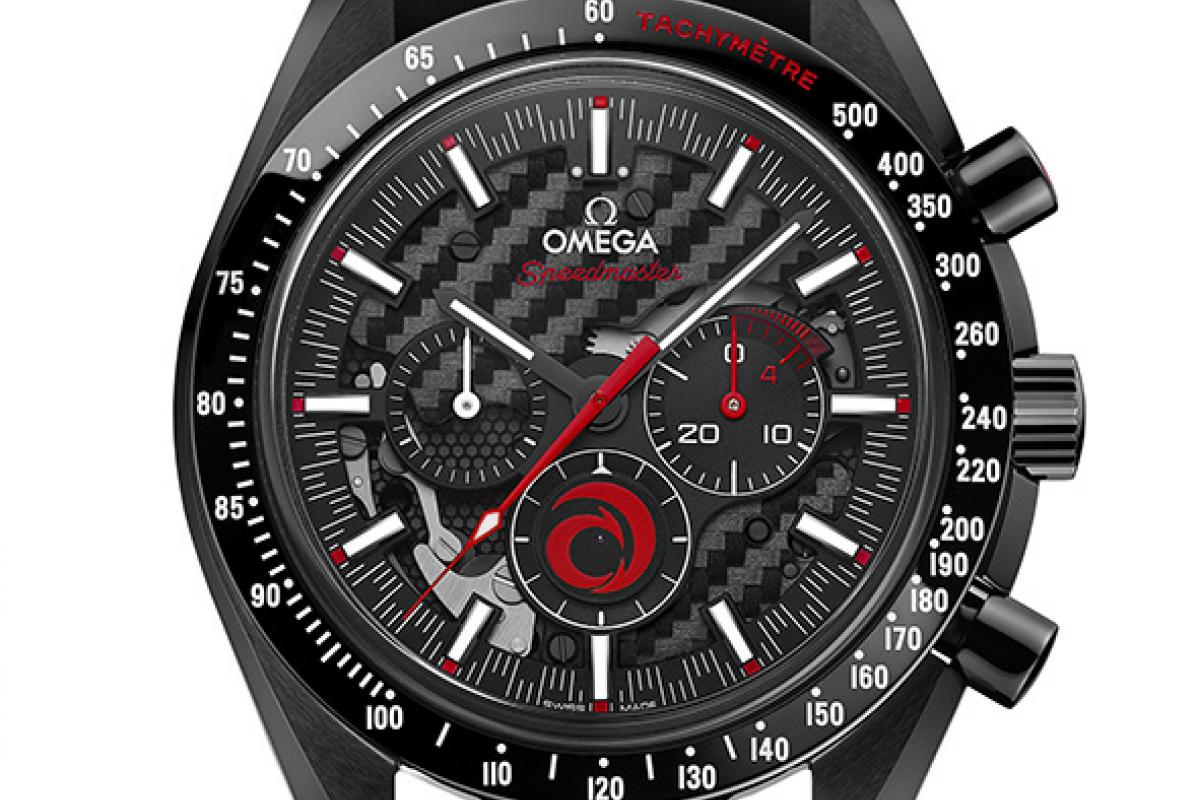 OMEGA and ALINGHI celebrate their unique sailing partnership with the launch of an extraordinary new catamaran-inspired Speedmaster.
Following their partnership formed in 2019, and as a special tribute to the ALINGHI boats that fly across the water, OMEGA has chosen the Speedmaster. This one-of-a-kind model displays some truly captivating details and is inspired by ALINGHI's unique boat design.
The Speedmaster Dark Side of the Moon ALINGHI combines the most advanced watchmaking materials and craftsmanship. Most impressive is the watch's Calibre 1865, which can be seen through the skeletonised dial. The laser-ablated movement has been inspired by ALINGHI's TF35 catamaran, and combines a mix of honeycomb and black carbon patterns. The black ceramic timepiece is also notable for its tactical time display at 3 o'clock and the ALINGHI logo at 6 o'clock, which rotates when the chronograph function is used.
Much like a winning performance on the water, the stunning new sailing watch is the result of exceptional teamwork. The release of the Speedmaster marks a proud moment for Raynald Aeschlimann, President and CEO of OMEGA and Ernesto Bertarelli, Founder and President of ALINGHI, as the stylish chronograph beautifully represents the brands' shared values: Swiss precision, innovation and pioneering spirit.
As explained by Raynald Aeschlimann, "The new watch is about two great Swiss brands combining their passion for innovation and sailing. To match ALINGHI's state-of-the-art boat creation, we've harnessed some truly impressive technology, along with the best materials and a very original design concept."
For the overall colour coding, OMEGA has matched the watch with the ALINGHI logo, which includes red to represent passion, and black for technology. This can be seen through features such as the perforated black and red rubber strap, as well as the 44.25 mm case in black zirconium oxide ceramic. Along with a tachymeter scale in Super-LumiNova, the outward design is also notable for the ALINGHI logo on the stop/start pusher, which has been created in red varnish.
Ernesto Bertarelli says, "It's been an immense pleasure to collaborate so closely with OMEGA on this wonderful new timepiece. Throughout our history, we've been very aware of the watchmaker's incredible expertise in sports timekeeping and passion for sailing. So, it is a very special moment to have worked on a watch together and now see the exquisite results. It's the perfect start to our relationship and a real sign of more to come in the future."
To find out more about the Speedmaster ALINGHI, click here.
Inquiring about The Swiss Connection, click here!
#Speedmaster   #OMEGA   #GoAlinghiGo
Photo credits
©Loris Von Siebenthal / ©OMEGA