GC32 World championship: 4th overall; 1st of the owner-driver
27 May, 2018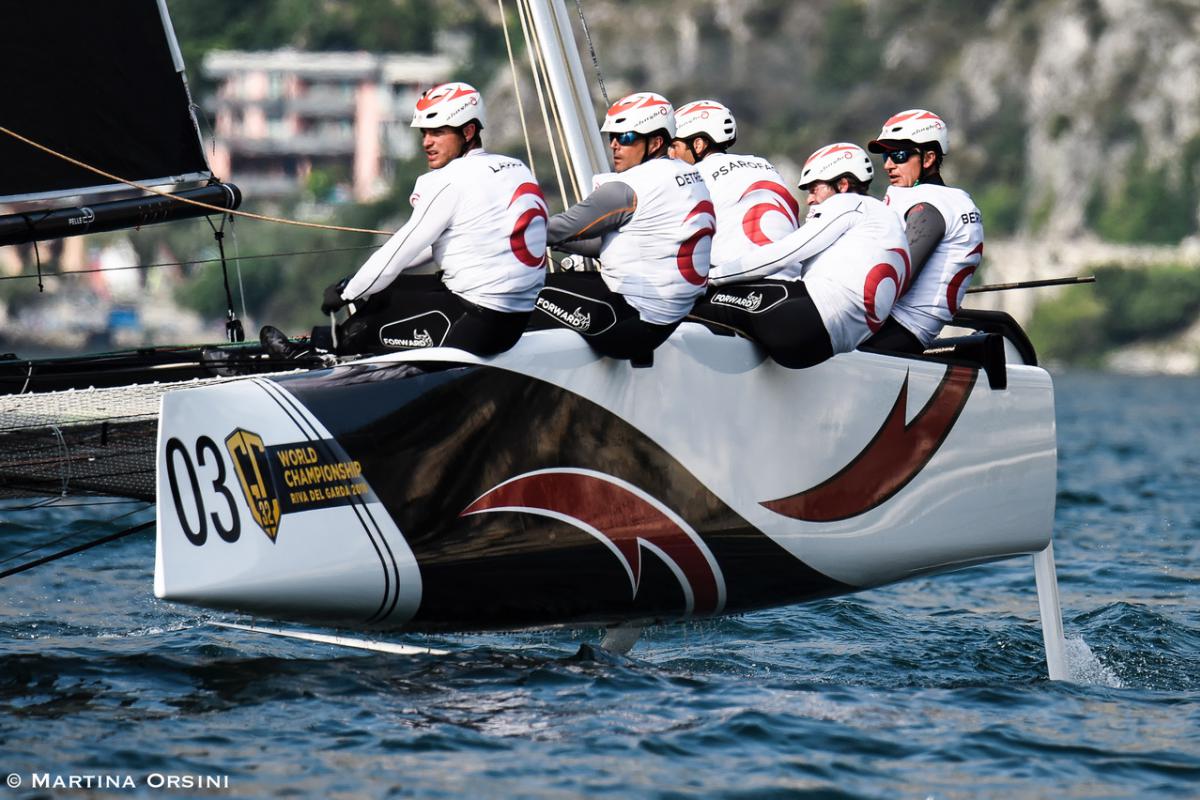 - 13 flying boats representing nine nations
- 65 international-level sailors
- Four days of racing and 16 races, all amid various conditions
- Team Tilt the World Champion (Hopp Schwiz!),
- Alinghi, helmed by Ernesto Bertarelli, 4th overall and winner of the owner-driver championship
Thus ended the inaugural GC32 World championship, which was organised by the Fraglia Vela Riva and the class representatives.
Ernesto Bertarelli, skipper-helmsman:
"I am satisfied with our result. Of course, I would have preferred to make the podium, but considering the fact that the 100% professional teams that finished above us – and indeed some of them beneath us –, we can be satisfied with our 4th place overall and also to get the title of owner-driver.
"The reality is that we have not sailed together enough in this format. Arnaud has changed his position from helm to tactician, while we'd have to go back to last year for the previous time I took a GC32 helm in a regatta. In 2018, we trained two days in Oman two months ago and two days last week in Riva.
"I think I have been able to steer the boat in its modes, to manage the foiling while at the same time remaining cautious, and I found that we were pretty fast around the course! But then it's the communication that we have to work on. At this level of competition, with each crew as competent as one another on the manoeuvres around the marks, what makes the difference is the communication and decision-making, and I feel we were a little bit behind here.
"Anyway, I had a lot of fun racing, especially during the windy Friday. It's a beautiful class, a great boat, foiling catamarans are the future of sailing, I'll be back!
"The Alinghi team sends our heartfelt congratulations to Team Tilt for their World title. Their victory is fantastic for Swiss sailing. Out of 13 teams, Switzerland was the most represented nation with three boats. I am very proud of this young generation of talented sailors."
Find the video of the reactions of the team back to dock by clicking here.
The series of spring races continues next weekend with the D35 on Lake Geneva and the Grand Prix of Versoix on Friday 1st June and Sunday 3rd of June, with, in between, the classic Genève-Rolle-Genève on Saturday.
Overall ranking after 16 races
1. Team Tilt (SUI) - 60 points
2. SAP Extreme Sailing Team (DEN) - 68 points
3. Oman Air (OMA) - 79 points
4. Alinghi (SUI) - 88 points (1st owner-driver)
5. INEOS Rebels UK (GBR) - 88 points
Click here for the overall ranking in its entirety and the ranking of owner-driver.
To find out more
gc32worlds.com
Event hashtags
#GoAlinghiGo // #GC32worlds
Credit for photos
© Martina Orsini, Pedro Martinez, Lloyd Images