OMEGA gets on board with ALINGHI
22 May, 2019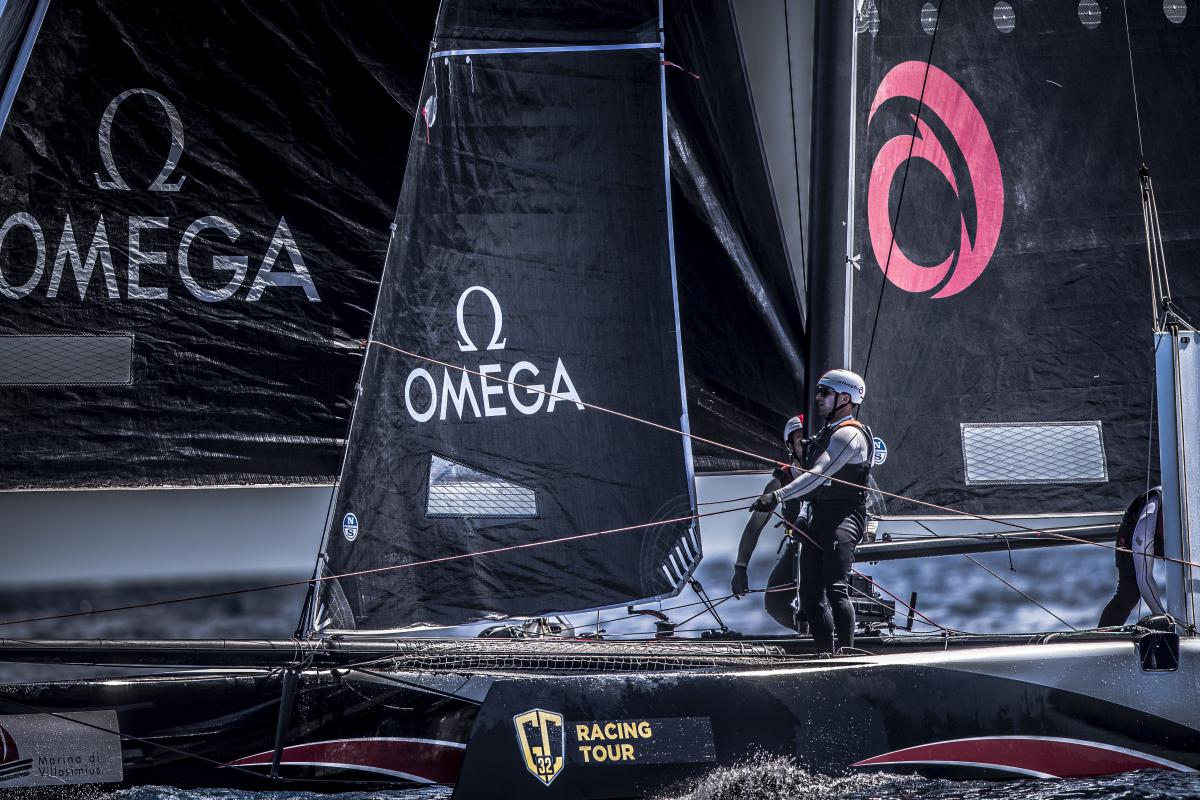 OMEGA and ALINGHI have joined forces in a brand new sailing partnership, just days before the launch of the GC32 season in Villasimius.
For more than 25 years, the prestigious Swiss watchmaker has shown a proud commitment to the world of sailing and it will continue that passion by accompanying the ALINGHI team on its competitive circuits.
Ernesto Bertarelli, founder and skipper of ALINGHI said, "ALINGHI and OMEGA share the same dedication to innovation, technology and speed. We are proud to represent Switzerland together and I am delighted to combine the excellence and know-how of the renowned watchmaker with the skill and success of ALINGHI on the water. In this 50th anniversary year of Apollo 11 and the OMEGA Speedmaster's legendary role aboard that mission, I can recall when we won the America's Cup under the Swiss colours. In the sailing world, that was comparable to the first steps on the moon. Since then, our team has always striven for perfection. With a new partner sharing this same vision, I look forward to writing an exciting new chapter in our story with OMEGA by our side."
Raynald Aeschlimann, President and CEO of OMEGA said, "We are truly honoured to begin this partnership with ALINGHI. Beyond sharing the same nationality, our two brands are inhabited by the same pioneering spirit and a passion for invention. ALINGHI has shown great vision throughout its history and OMEGA is looking forward to supporting the team in future competitions."
About OMEGA
The Swiss watchmaker OMEGA is known across the world for its unrivalled sporting heritage. Most notably, the brand has been positioned as the Official Timekeeper of the Olympic Games on 28 occasions since 1932.
In sailing, OMEGA is a major partner for numerous teams and competitions at all levels, including its enduring support of Emirates Team New Zealand since 1995. In 2000 and 2003, the brand was the Official Timekeeper of the America's Cup and, most recently, their expertise was used as Official Timekeeper of the Volvo Ocean Race in 2017/2018. Today, many of the best sailors are closely linked to OMEGA and, throughout its history, the brand has produced many sailing watches, complete with functional ocean design and iconic style.
About ALINGHI
Founded and directed by Ernesto Bertarelli, ALINGHI made its debut as a sports team in 1994. In 2000, the team set a goal of winning the America's Cup, a goal achieved twice in 2003 and 2007. ALINGHI is therefore the first European team to win the prestigious trophy and has achieved many other successes, including seven victories at the Bol d'Or, seven D35 Trophies and four Extreme Sailing Series championships.
ALINGHI is associated with the D35 Trophy and the GC32 Racing Tour in 2019, and is contributing to the development of the new TF35 one-design foiling catamaran.
For more information
omegawatches.com
#OMEGAOfficialTimekeeper
#GoAlinghiGo
Photo credits
©Jesùs Renedo/Sailing Energy & OMEGA