Alinghi dominant in Singapore
23 February, 2014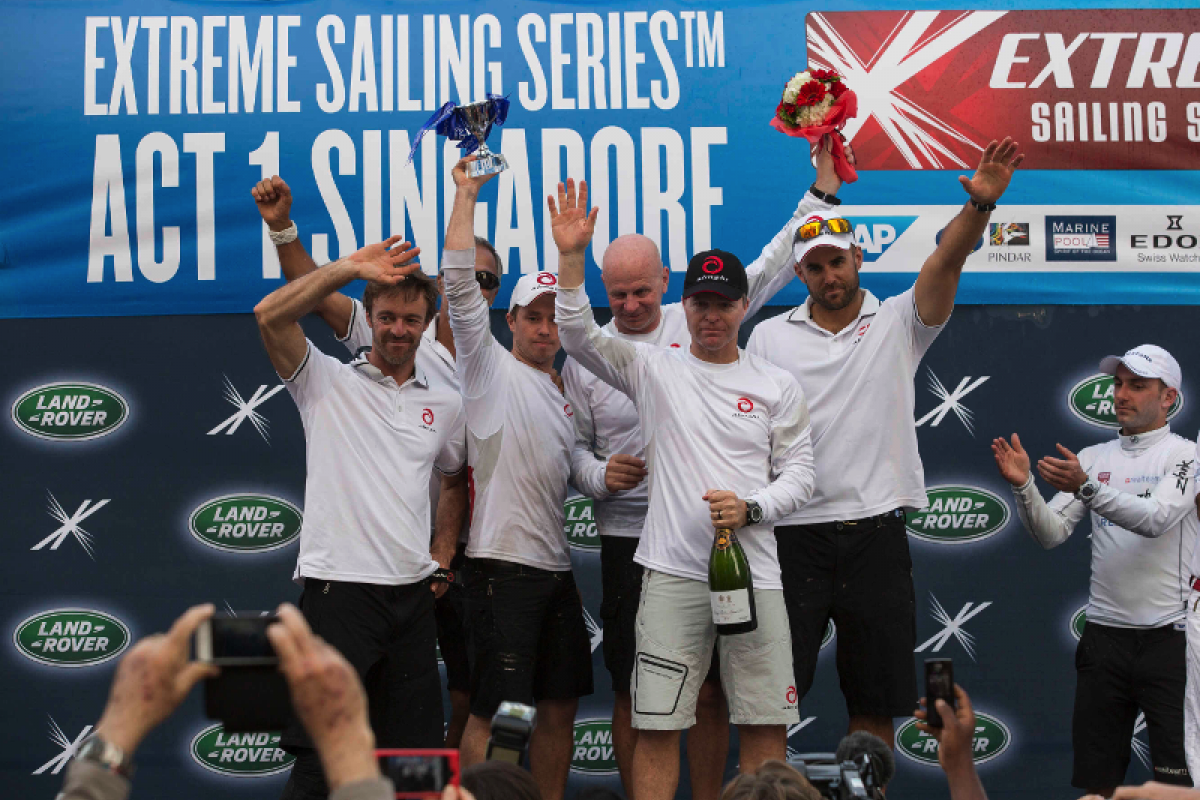 What a perfect start to 2014. Not just a win in the opening Act of the ESS season, but one that was very much a statement of intent from Ernesto Bertarelli's team. The model of consistency, Alinghi didn't take their foot off the pedal all weekend.
In front of thousands of fans, the teams – including several high profile newcomers – did battle in one of the most iconic sailing venues in the world, the Marina Bay stadium circuit providing some fascinating duels. The tight course made staying out of trouble all the more important and it was Alinghi who bested the course and their rivals.
In a hugely promising and competitive display the team finished more than half of the weekend's 29 races in the top three, a fact that meant they had already secured the Act before the final double-points race – a rare occurrence on the ESS circuit. Thus it was that – in the final race at least – the drama was to be found instead in the fight for second and third places. A penalty for Emirates Team New Zealand in the race ultimately cost the new challengers a place on the podium, with The Wave, Muscat and Realstone taking advantage to finish in second and third respectively – and this despite the latter having missed the penultimate day's racing.
Speaking after the victory, Pierre Yves Jorand gave his reasons for Alinghi's dominating performance: "It was a combination of things – our starts were consistently powerful and on this tricky and shifty course Stu [Stuart Pollard] made some great calls on the tactics. Crucially we were pretty successful in terms of avoiding contact – not always easy on this course!"
Morgan Larson, skipper in Singapore, said: "We couldn't have dreamed for a better start. It was challenging here and with the level of competition a couple of notches higher this season – I think we just carried on from last year and we're the only team that hasn't changed any of our crew. We will try and build on from last year and enjoy this victory!"
ESS™ 2014 Act 1, Singapore standings after Day 4, 29 races (23.02.14):
Position / Team / Points
1st Alinghi (SUI) Morgan Larson, Stuart Pollard, Pierre-Yves Jorand, Nils Frei, Yves Detrey 217 points.
2nd The Wave, Muscat (OMA) Leigh McMillan, Sarah Ayton, Pete Greenhalgh, Kinley Fowler, Nasser Al Mashari 193 points.
3rd Realstone (SUI) Jérôme Clerc, Arnaud Psarofaghis, Bruno Barbarin, Thierry Wassem, Sebastien Stephant 178 points.
4th Emirates Team New Zealand (NZL) Dean Barker, Glenn Ashby, James Dagg, Jeremy Lomas, Edwin Delaat 168 points.
5th Groupama sailing team (FRA) Franck Cammas, Sophie de Turckheim, Pierre Leclainche, Thierry Fouchier, Devan Le Bihan 160 points.
6th Red Bull Sailing Team (AUT) Roman Hagara, Hans-Peter Steinacher, Mark Bulkeley, Nick Blackman, Haylee Outteridge 156 points.
7th J.P. Morgan BAR (GBR) Ben Ainslie, Nick Hutton, Paul Goodison, Pippa Wilson, Matt Cornwell 152 points.
8th Gazprom Team Russia (RUS) Igor Lisovenko, Paul Campbell-James, Alister Richardson, Pete Cumming, Aleksey Kulakov 128 points.
9th Oman Air (OMA) Rob Greenhalgh, Tom Johnson, Will Howden, Hashim Al Rashdi, Musab Al Hadi 128 points.
10th SAP Extreme Sailing Team (DEN) Jes Gram-Hansen, Rasmus Køstner, Thierry Douillard, Peter Wibroe, Nicolai Sehested 126 points.
11th Team Aberdeen Singapore (SIN) Nick Moloney, Adam Beashel, Scott Glen Sydney, Tom Dawson, Justin Wong 82 points.
12th GAC Pindar (AUS) Seve Jarvin, Troy Tindill, Ed Smyth, Sam Newton, Alexandra South 59 points.