Alinghi second in Nice
7 October, 2013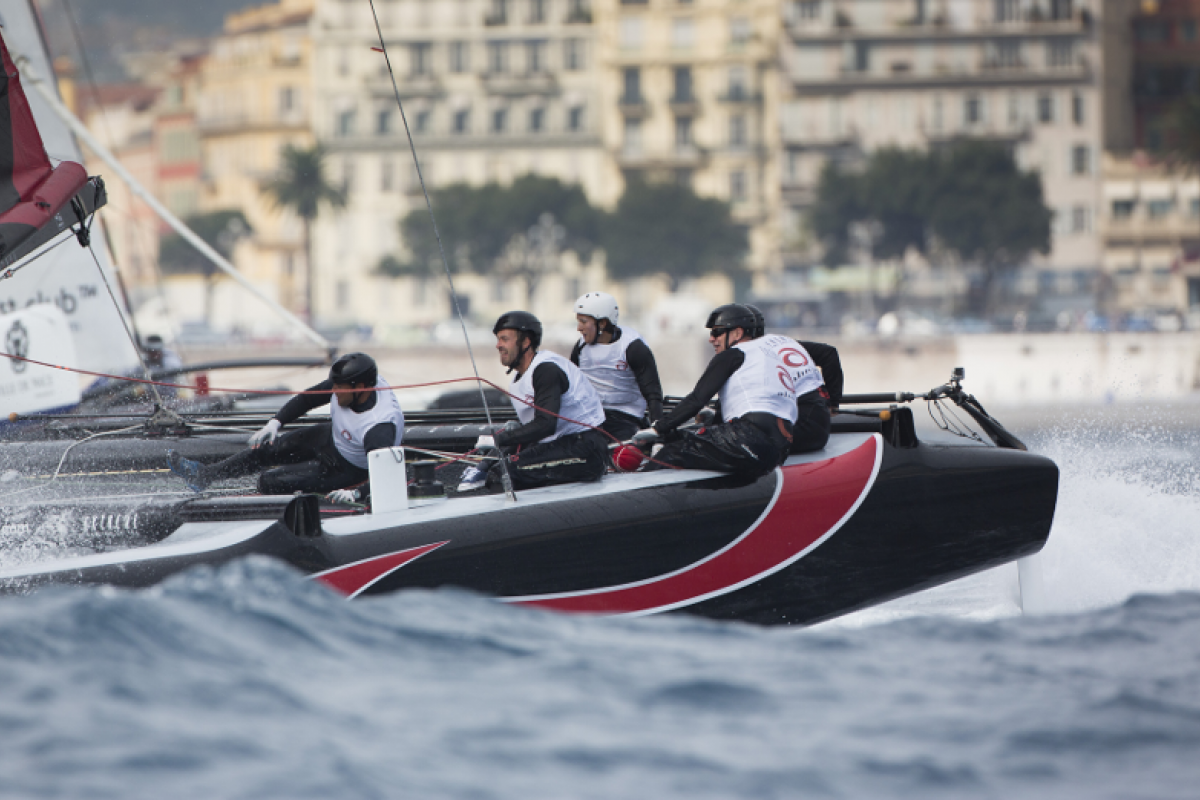 Photo credit: Lloyd Images
It was an intense and exciting Act 7 of the Extreme Sailing Series in Nice. Over the four days of the event, the waters off the French Riviera served up hugely testing conditions that verged from one extreme to the other. Earlier in the Act, winds of 25 knots and swells of two metres saw the teams battling just to keep their catamarans upright; on Day 4, a gentle breeze provided an entirely different challenge for the Extreme 40s.
Throughout it all, The Wave, Muscat continued their run of great form, setting a blistering pace to lead the act from first race to last. Given their performance, the Act became, to all intents and purposes, a battle for second place – indeed, The Wave had an unassailable lead going into the all-important double points final race.
Alinghi, with Olympic champion Anna Tunnicliffe again on the team, had been consistent over the course of the event, finishing in the top half of the fleet time and time again. Nonetheless, Austrian team Red Bull Sailing had been pushing the team hard all weekend and going into the final race had a one point advantage over Ernesto Bertarelli's team. That meant one thing – whoever finished in front of the other would claim second place overall.
Having duelled with the Austrians around the course, it was ultimately Alinghi who gratefully accepted second spot on the podium, having finished fourth in the last double-pointer. Afterwards, helm Morgan Larson said:
"We were behind so we didn't feel like we had anything to lose, but we had everything to gain. It was all on. The Wave, Muscat were doing everything they could to make sure that Red Bull beat us, and also Realteam. So there was a lot happening and a lot of other races among that race – it was really exciting!"
The fleet will now move to Florianopolis in Brazil, where from 14-17 November the winner of the 2013 Extreme Sailing Series will be decided. Alinghi are now two points behind The Wave, Muscat, so it is all to play for.
Extreme Sailing Series™ 2013 Act 7, Nice presented by Land Rover standings after Day 4, 29 races (6.10.13)
Position / Team / Points
The Wave, Muscat (OMA): 237
Alinghi (SUI): 217
Red Bull Sailing Team (AUT): 216
Realteam (SUI): 213
ChinaSpirit (CHN): 183
SAP Extreme Sailing Team (DEN): 175
The first club by ALL4ONE (FRA): 170
GAC Pindar (NZL): 130
Extreme Sailing Series™ 2013 overall standings after Act 7, Nice presented by Land Rover
Position / Team / Points
The Wave, Muscat (OMA): 56
Alinghi (SUI): 54
Red Bull Sailing Team (AUT): 45
SAP Extreme Sailing Team (DEN): 41
Realteam (SUI): 35
GAC Pindar (NZL): 30
Team X Invitational: 26
Team Korea (KOR): 16