Conditions in Muscat today are similar to Lake Geneva!
3 March, 2017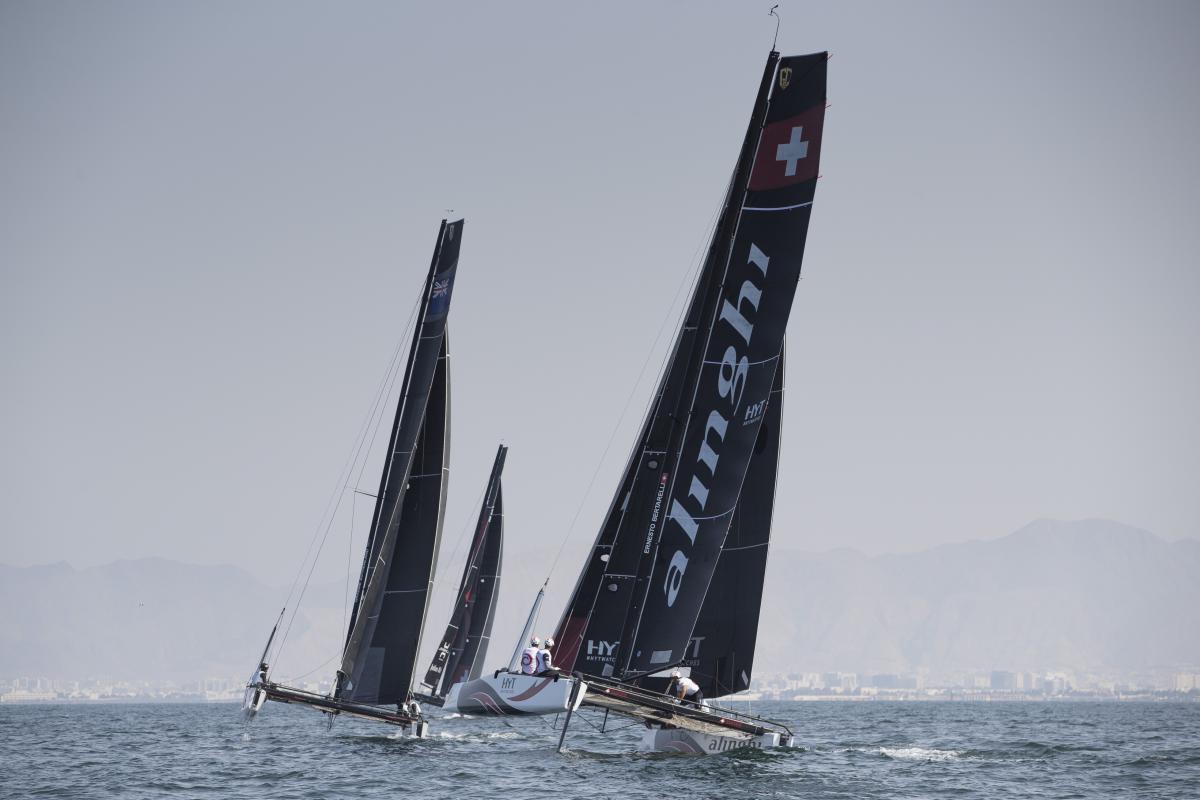 Nils Frei, headsail trimmer:
"Leaving the port today we had 9-10 knots of wind, which allowed us to foil in the first race, in which we finished sixth. We were blocked on the start line by a competitor, meaning we were left in a bad position once we got to the first mark, though we were then able to make up some ground.
"At the same time, the level has definitely been raised this week, as can be seen by how each team has had differing results throughout the course of the regatta. In today's race Oman Air finished seventh, Team Tilt fifth and Red Bull Sailing Team eighth. SAP's second place in the race secures them the same position in the overall rankings tonight, with us one position behind, six points ahead of Tilt in fourth.
"Soon after the first race the wind fell and the race committee even had to cancel the second race as it was being run, the time limit to finish it having been breached - the rule states that if nobody is over the finish line within 35 minutes then the race is abandoned and the race restarted on a shorter course, if the wind allows it, of course.
"The wind stayed the same, so we look forward instead to tomorrow and hope for big breezes so that we can enjoy some great racing."
The sailing starts a little earlier tomorrow than the previous days, at 12:00 local time, with five additional races added to the programme.
After Day 3 and ten races sailed, the overall standings read (with one point for first, two for second, and so on):
1st - Oman Air (OMA): 2, 3, 7, 1, 1, 3, 1, 4, 5, 7 > 34 points
2nd - SAP Extreme Sailing Team (DEN): 7, 2, 1, 5, 2, 4, 12, 1, 1, 2 > 37 points
3rd - Alinghi (SUI): 3, 4, 3, 4, 3, 2, 4, 5, 6, 6 > 40 points
4th - Team Tilt (SUI): 1, 6, 4, 2, 5, 1, 12, 3, 7, 5 > 46 points
5th - Team Engie (FRA): 4, 1, 5, 3, 7, 5, 6, 8, 10, 1 > 50 points
6th - Red Bull Sailing Team (AUT): 8, 8, 2, 7, 6, 8, 2, 2, 4, 8 > 55 points
Find all results on: https://www.gc32championship.com/results/
A RECAP
What: The very first annual GC32 class championship, bringing together teams from the Extreme Sailing Series and the GC32 Racing Tour, as well as those who simply run a GC32
Who: 11 international teams, each with five members
Where: Al Mouj, Muscat, Oman
When: Tuesday 28th of February to Sunday 5th of March, 2017
How: The teams will compete in a race around marked buoys aboard their one-design 32ft long foiling catamarans – the GC32
Follow the action
There are five different ways to follow Alinghi during the championship, with each day featuring up to five races each afternoon, starting at 1pm local time (GMT + 4, CET + 3)
News, photos and video clips:
www.alinghi.com
www.gc32championship.com
On Twitter @alinghiteam:
> Updates after each race
On Facebook @teamalinghi and Instagram @alinghi:
> Interviews, photos and videos
Alinghi's GC32 crew
Helm and skipper: Ernesto Bertarelli (SUI)
Tactician and mainsail trimmer: Arnaud Psarofaghis (SUI)
Headsail trimmer: Nils Frei (SUI)
Foil trimmer and grinder: Timothé Lapauw (FRA)
Bowman: Yves Detrey (SUI)
Co-tactician and mainsail trimmer (alternating with Arnaud): Nicolas Charbonnier (FRA)
Technical Team
João Cabeçadas (POR)
David Nikles (SUI)
Coach and team leader
Pierre-Yves Jorand (SUI)
To find out more
www.gc32championship.com
Event Hashtags
#GoAlinghiGo
#GC32championship
Photo Credit
©Lloyd Images