Practical information - 2019 GC32 Racing Tour
17 April, 2019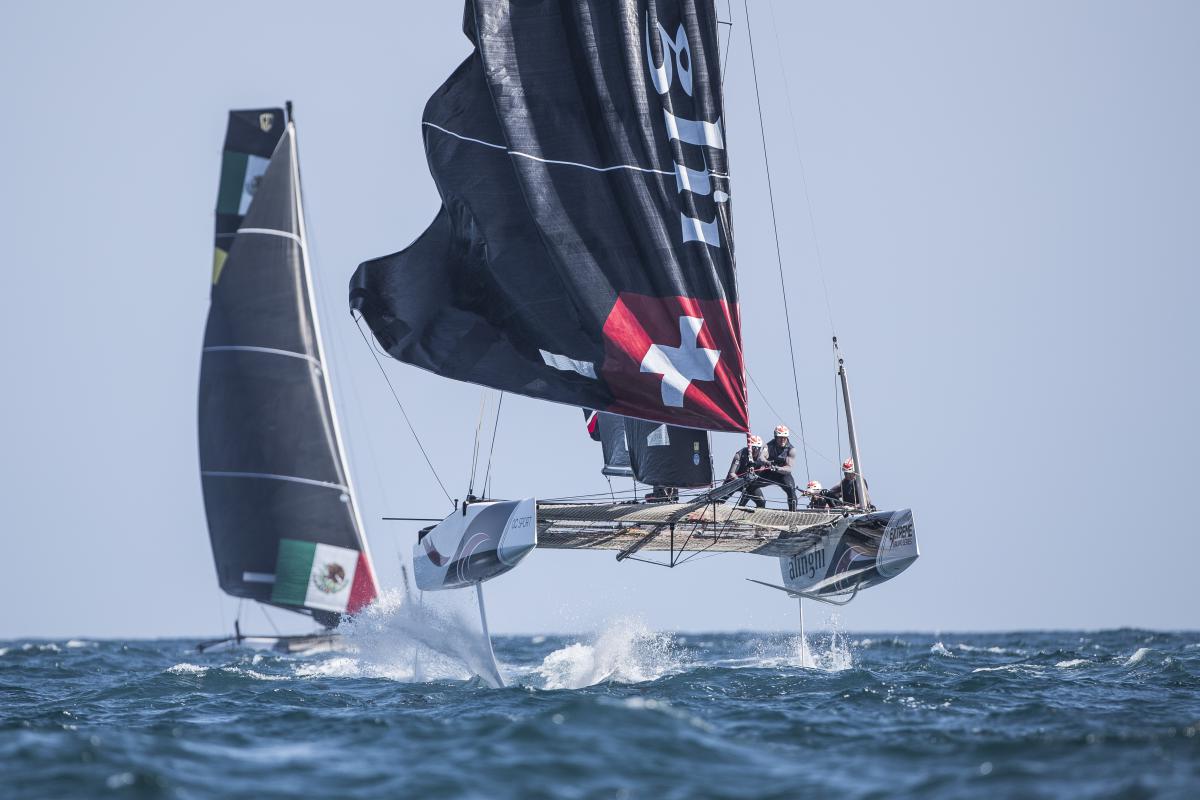 What: A one-design circuit created in 2014 and which includes an average of five events per season, sailed mainly in Europe. Alinghi competed for the first time in 2015 (the team's foiling debut...) and finished second behind Oman Air.
Who: 8 to 12 international teams bringing together professional sailors and owners. A crew is usually formed of five members (the presence of a woman on board may mean that six can sail).
Where: Stage 1: Villasimius (Sardinia, Italy), Stage 2: GC32 World Championship (Lagos, Portugal), Stage 3: Palma de Mallorca (Spain), Stage 4: Riva del Garda (Italy), Stage 5: Muscat (Oman)
When: From May to November 2019 (click here for the full race calendar)
How: The teams compete aboard 32-ft foiling GC32 catamarans in successive races around buoys that last about twenty minutes. Weather permitting, the races take place close to shore. For more information, click here.
Follow the action
There are a number of ways to follow Alinghi across the Tour's five events, each of which will comprise four days of competition with up to five races each afternoon (watch out for jet lag, though, given their location):
Twitter @alinghi
> The results of each race as well as assorted photos and video clips
Facebook @teamalinghi and Instagram @alinghi
> Interviews, videos & photos
Internet
> gc32racingtour.com : Races modeled in 2D (live and replay) from the first to the last day of each competition
> alinghi.com : News and a selection of photos
GC32 Team
Ernesto Bertarelli (SUI) - Helmsman skipper
Arnaud Psarofaghis (SUI) - Helmsman, co-skipper
Nicolas Charbonnier (FRA) - Tactician and mainsail trimmer
Bryan Mettraux (SUI) - Frontsail trimmer
Timothé Lapauw (FRA) - Foil trimmer
Yves Detrey (SUI) - Bowman
Nils Frei (SUI) - Coach and spare sailor
Technical Team
João Cabeçadas (POR)
David Niklès (SUI)
Team Director
Pierre-Yves Jorand (SUI)
To find out more
gc32racingtour.com
Hashtags for the events
#GoAlinghiGo
#gc32racingtour
#gc32
Credit for photos
© Lloyd Images