In with a shot!
2 March, 2017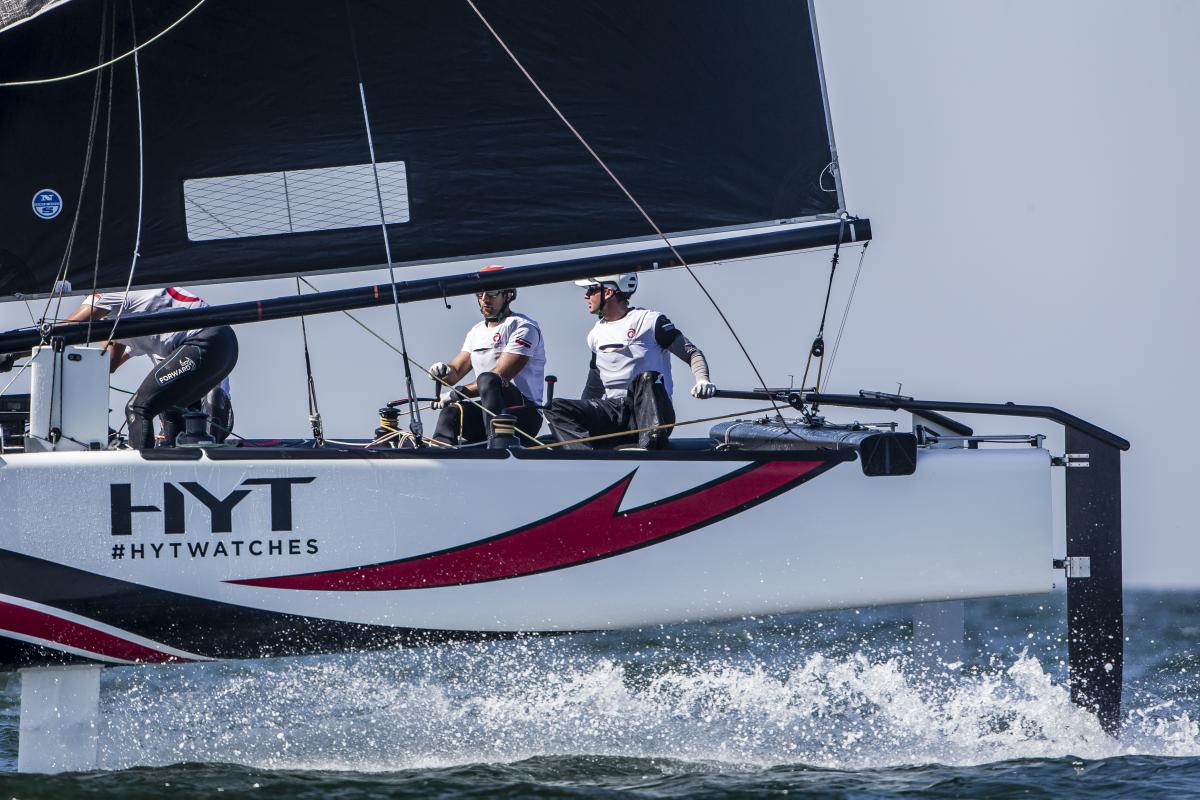 Timothé Lapauw, foil trimmer and grinder: "We are generally happy with our second day of the championship, which started with a nice second place after a great start. We then recorded finishes of 4th, 5th and 6th, placing us second overall in the championship standings. Oman Air lead by seven points ahead and SAP are close on our tail, one point back. The pack widened a little with Tilt suffering a disqualification for a false start under the 'black flag' rule in the second race of the day, implemented when repeated over-shooting of the starting gun has occurred.
"The conditions were lighter than yesterday and the opportunities to foil were naturally rarer. We still have to fine-tune our start-up phase on the launch, but we can be pleased that, throughout the day, we always managed to come back during the race. The competition is really fierce, but our motivation remains strong and we will keep going until the end."
Without our technical team, we might not have even been on the start line...
Inside Alinghi with David Nikles, part of Alinghi's shore team: "Tuesday, at the end of the first day of racing, our GC32 was sailing back towards the harbour when we heard a loud noise, even from the coach boat following the GC. Whatever the catamaran touched in the water, it was big enough to cause serious damage to the rudder on the starboard side. It was impossible for us to sail – the plate on the transom holding the rudder was torn off, the link bar broken and the carbon spoiled. We had to lower the sails and be towed back to the port. We knew we would have to get to work to make the necessary repairs to get us back on the water.
"We used a crane to take the boat out of the water for the repairs. All of the team helped João and me, of course, but they needed to rest in order to be fit for the races on the water. It took me a good part of the night and I came back early this morning to check that the resin had caught and that the paint was dry for the boat to be ready to go back to racing ... "
Discover the rest of the story in pictures on our Facebook page ;-)
Tomorrow Thursday 2 March is a day off, so there will be no competition.
But March the 2nd is a big day for Alinghi, the anniversary of the team's first victory in the America's Cup! That win came in 2003 and was the team's first attempt, success meaning that the Auld Mug was returned to Europe for the first time since it was founded in 1851.
Returning back to 2017, Alinghi invite you to join us this Friday for the continuation of the first annual championship of the GC32 class.
After Day 2 the standings read:
1st - Oman Air (OMA) : 2, 3, 7, 1, 1, 3, 1, 4, 5 > 27 points
2nd - Alinghi (SUI) : 3, 4, 3, 4, 3, 2, 4, 5, 6 > 34 points
3rd - SAP Extreme Sailing Team (DEN) : 7, 2, 1, 5, 2, 4, 12, 1, 1 > 35 points
4th - Team Tilt (SUI) : 1, 6, 4, 2, 5, 1, 12, 3, 7 > 41 points
5th - Red Bull Sailing Team (AUT) : 8, 8, 2, 7, 6, 8, 2, 2, 4 > 47 points
Full results at: https://www.gc32championship.com/results/
A RECAP
What: The very first annual GC32 class championship, bringing together teams from the Extreme Sailing Series and the GC32 Racing Tour, as well as those who simply run a GC32
Who: 11 international teams, each with five members
Where: Al Mouj, Muscat, Oman
When: Tuesday 28th of February to Sunday 5th of March, 2017
How: The teams will compete in a race around marked buoys aboard their one-design 32ft long foiling catamarans – the GC32
Follow the action
There are five different ways to follow Alinghi during the championship, with each day featuring up to five races each afternoon, starting at 1pm local time (GMT + 4, CET + 3)
News, photos and video clips:
www.alinghi.com
www.gc32championship.com
On Twitter @alinghiteam:
> Updates after each race
On Facebook @teamalinghi and Instagram @alinghi:
> Interviews, photos and videos
Alinghi's GC32 crew
Helm and skipper: Ernesto Bertarelli (SUI)
Tactician and mainsail trimmer: Arnaud Psarofaghis (SUI)
Headsail trimmer: Nils Frei (SUI)
Foil trimmer and grinder: Timothé Lapauw (FRA)
Bowman: Yves Detrey (SUI)
Co-tactician and mainsail trimmer (alternating with Arnaud): Nicolas Charbonnier (FRA)
Technical Team
João Cabeçadas (POR)
David Nikles (SUI)
Coach and team leader
Pierre-Yves Jorand (SUI)
To find out more
www.gc32championship.com
Event Hashtags
#GoAlinghiGo
#GC32championship
Photo Credit
©Jesùs Renedo / GC32 Championship Oman 2017