The 55th edition of the Genève-Rolle-Genève: 5th place of the D35s, 6th overall
9 June, 2019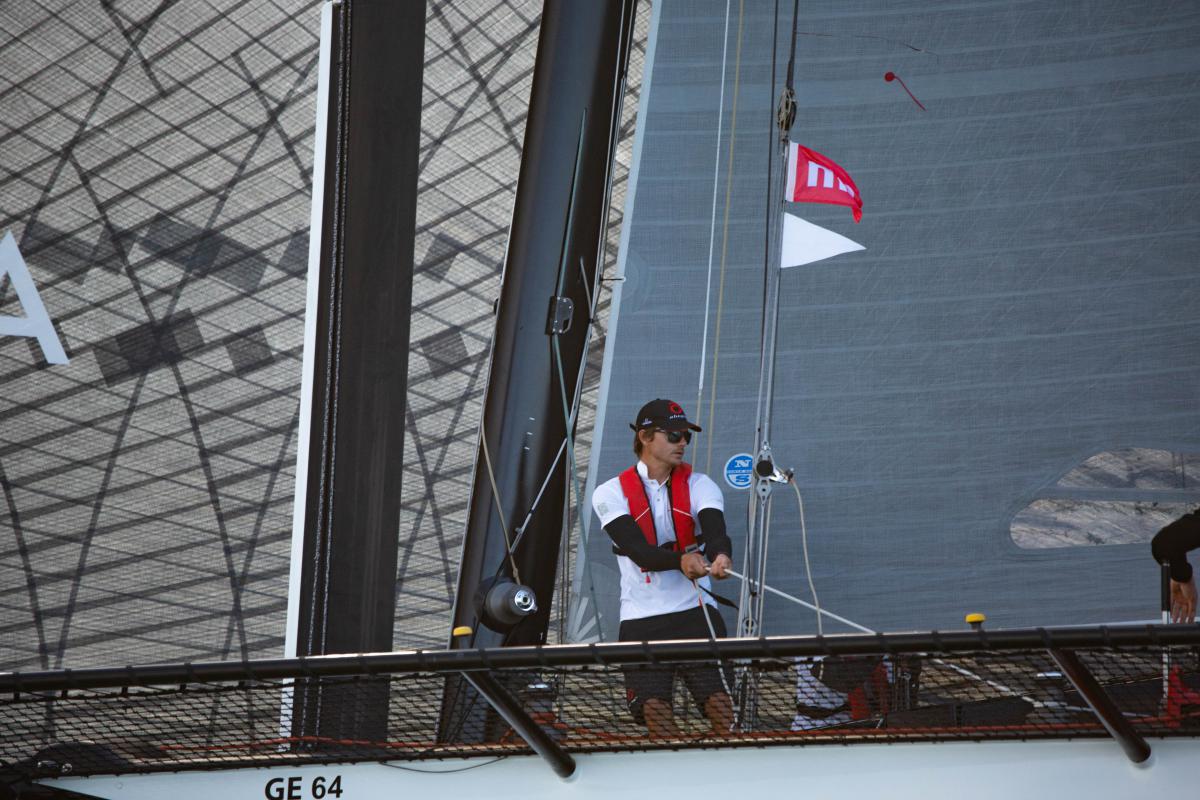 Great blue skies, dropping south-west and wavering Séchard winds served as the setting for this first of lake Léman two classic races in the D35 Trophy.
After four hours and nine minutes of racing, Alinghi crossed the finish line in 6th position overall (5th among the D35s) in the 55th Genève-Rolle-Genève.
The D35 Zen Too (3h57'), Eleven Sailing Team (4h03'), and the M1 Ladycat powered by Spindrift (4h04') took the podium in this event which is synonymous with a warm-up for the Bol d'Or.
Bryan Mettraux, trimmer: "We made a good start in the south-west, which allowed us to be in the hunt by the time we got to near Nyon. Then there was the first transition where we hit the northerly wind in which we rounded the halfway mark at Rolle in 3rd position.
"We attacked well on the way back to Geneva, but it was quite special. We went down with the new wind, we got stuck in no pression, until it came back again (as the D35 goes faster than the wind in this light conditions). At one point we had to cross the lake to stay in the pressure, but we didn't cross exactly at the right time.
"There is always a sense of success being shared in these races. Zen Too managed to come back through the fleet and crossed at the right moment. It's part of the game and they played it well."
With such light conditions in such a long race, would it be wise to wait patiently and then to launch the assault at the right moment ?
Nils Frei, trimmer, gives his point of view: "We have a little more cards in hand in general when we are in front, but these are races where anything can happen, with reversals of situation and sometimes the pressure that comes from behind. But it's hard enough to predict! I think we do not want to be a team that sits back and says we will see after. Especially given that there are races that develop from the front and others where it pays to come back from behind."
See you next week, June 15th at 10am, wind or not, for the start of the 81st Bol d'Or Mirabaud.
Click here for all the results of the Genève-Rolle-Genève.
To find out more
d35trophy.com  // ycg.ch/geneve-rolle-geneve/
#GoAlinghiGo  //  #D35Trophy  //  #GRG19
To find out more about how to follow the racing, the team composition and the circuit in general, find the event recap by clicking here.
Photo credits
©EP medias