ALINGHI 2017: The D35 Trophy, Extreme Sailing Series and the first ever GC32 Class Championship
23 January, 2017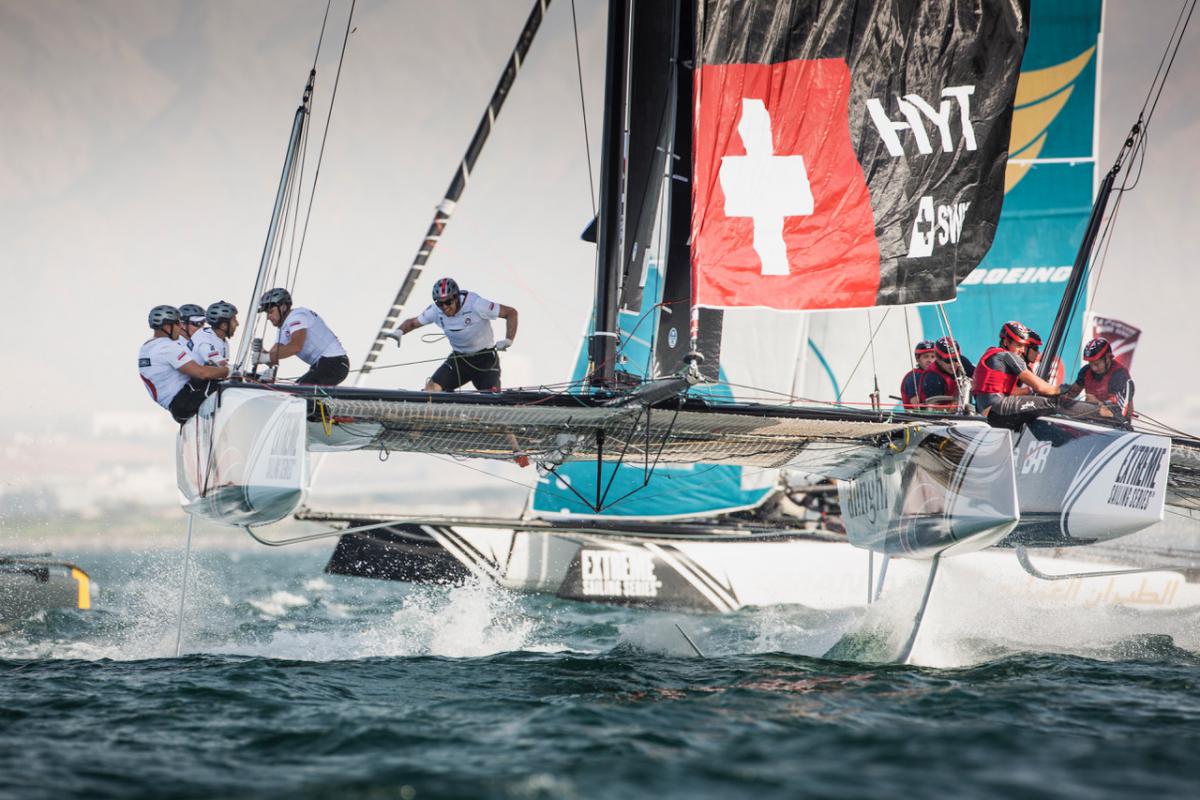 In its 23rd season of competitive sailing, Alinghi will line-up on two circuits, as well as take part in a new championship for the GC32 class.
Competing against some of the world's most prestigious racing stables, Alinghi will be going for a sixth victory in the D35 Trophy, as well as aiming to repeat last year's performance and win in the Extreme Sailing Series.
Ernesto Bertarelli is founder, owner and skipper of the Alinghi sailing team. He outlines Alinghi's thinking behind the upcoming 2017 season:
"The Alinghi spirit was forged by our exploits and victories on Lake Geneva, long before the America's Cup. That is why our participation in the D35 Trophy was never in doubt. It's where we come from, it's in our DNA and, whatever my schedule, I make it a priority to lead Alinghi on the D35 circuit.
"Our successes on the Lake are extremely important to us and, believe you me, winning the big prizes, like the D35 or the Bol d'Or, is just as tough and just as satisfying as getting on the most acclaimed international podiums.
"With regards the Extreme Sailing Series, Alinghi will be defending its title in 2017. Being the defending champions, we know that we have our work cut out, because we have become the ones to beat, but also because – and this is what makes the Extreme Sailing Series so good – the standard of all of our competitors is so high. We saw some amazing performances in 2016, notably from SAP Extreme Sailing Team, Red Bull Sailing Team and Oman Air. It was always close and hard-fought racing and, given that all of the teams will continue to improve, we need to make sure that we are ready to compete.
"We therefore are also looking forward to participating in the first ever GC32 Class Championship, which will take place between the 28th of February and the 5th of March in Muscat (Oman) and in which teams from both the GC32 racing tour and the Extreme Sailing Series will participate. Exciting times ahead!"
Alinghi: Team spirit is at the heart of our approach
Ernesto Bertarelli:
"It's no great secret that the key to a successful sailing team is teamwork. We have a long history of success, which breeds know-how and a determination to win. I've sailed with some of my teammates for more than 20 years now and also we have been able to integrate some of the best young sailors of the new generation. Take Arnaud Psarofaghis, for example, one of the premier talents in sailing. He was only 14 when Alinghi won its first America's Cup in 2003. Today, we are co-helming the GC32 and sailing together on the D35 Trophy on Lake Geneva.
"Alinghi just has this superb team ethic, something I've always put at the forefront of what we try to do. It is not just about the guys on the boat, but also a fantastic technical team and a coach who is second to none. It is precisely the richness and variety of experience of each member of the team that makes Alinghi stand out. Each member can share and express their own experiences and ideas with the rest of the team, and spending as much time together as we do helps us to learn from one another and allows every member to up their game. This is also where the hard work of the past years comes into play; all the hours and hours of training together on the Lake came to fruition.
"Finally, I believe that one of our strengths is that we are able to question ourselves and to learn from failures, enabling us to come back stronger. I could not be more proud of our team."
Keep improving to stay at the top
Arnaud Psarofaghis, GC32 co-skipper & co-helm, D35 mainsail trimmer:
"We fully match Ernesto's way of thinking. We believe above all in teamwork. For me, it is a great thrill to race with a team I dreamt about sailing with as a youngster growing up on the shores of Lake Geneva.
It was a great moment in Sydney - winning the 2016 Extreme Sailing Series - and we worked for it, but the next hardest thing is to do it again because everyone will improve and many more people with experience will come into the fleet, so it's going to be even harder this year.
"I believe that there are lots of areas where our team can still improve. In sailing, you can always gain everywhere. One particular focus for 2017 will be trying to play the percentage game a little more when a race is going against the team. That means, for example, instead of trying to go for a big play that could produce a podium finish, but also risks finishing in the cheap seats, we will, with our tactician Nicolas Charbonnier, try to go for a safer option that gives us a few points but avoids the risk of disaster.
"That's easy to say before you are racing, but when you are out on the water, it is really hard to make decisions that could be the difference between beating one boat or losing out against five others. You need to take risks, but in some positions we need to be careful not to throw everything away."
Composition of the team
The crew will remain the same in what will be:
- Their 14th year competing in the D35 Trophy (with 13 podiums, including five victories)
- And their 7th year in the Extreme Sailing Series (with four podiums and three victories)
Ernesto Bertarelli and Arnaud Psarofaghis will share the responsibilities as co-skipper and co-helm on the GC32, while on the D35 Ernesto will helm and Arnaud trim the mainsail.
Nicolas Charbonnier, Olympic bronze medallist in the 470 class, will operate as tactician both on the D35 & the GC32.
Nils Frei, who first competed onboard Alinghi in 2001, will continue his role as headsail trimmer both on the D35 & the GC32.
Yves Detrey, who was part of Alinghi's 2003, 2007 and 2010 America's Cup campaigns, remains on bow both on the D35 & the GC32.
Timothé Lapauw, the youngest on the team at just 20 years of age and who made his debut last season, will return as floater on the GC32.
Coraline Jonet, who was in the hospitality team during the 32nd and 33rd America's Cup joined the D35 sailing team in 2008, will be floater on the D35.
Supporting the onboard team will be longstanding Alinghi crewmember, Pierre-Yves Jorand, who will continue to deliver guidance as coach and team leader, alongside the expert shore crew, David Nikles, João Cabeçadas and Claudy Dewarrat.
2017 Sporting calendar
D35 Trophy
Grand prix d'ouverture – Société nautique de Genève: 5th – 7th May
Grand prix Realstone – Club nautique de Versoix: 20th & 21 May
Open de Versoix – Club nautique de Versoix: 9th & 11th of June
Genève-Rolle-Genève – Yacht Club de Genève < > Rolle: 10th of June
Bol d'Or Mirabaud – Société nautique de Genève < > Le Bouveret: 17th and 18th of June
Open du Yacht Club – Yacht Club de Genève: 2nd and 3rd of September
Grand prix Alinghi de Crans – Club nautique de Crans: 9th and 10th of September
Grand prix de clôture – Société nautique de Genève: 22nd and 23rd of September
Extreme Sailing Series
Act 1 – Muscat, Oman: 8th – 11th of March
Act 2 – Qingdao, China: 28th April – 1st May
Act 3 – Madeira Islands, Portugal: 29th June – 2nd of July
Act 4 – Europe (TBA): 20th – 23rd of July
Act 5 – Hamburg, Germany: 10th – 13th of August
Act 6 – Cardiff, UK: 25th – 28th August
Act 7 – San Diego, USA: 19th – 22nd October
Act 8 – Los Cabos, Mexico: 30th November – 3rd December
GC32 Class Championship
Muscat, Oman: 28th of February – 5th of March
Check Alinghi's sporting calendar at: www.alinghi.com/calendar
Alinghi's record of success
1997: 1st victory in the Bol d'Or
2000: 2nd victory in the Bol d'Or
2001: 3rd victory in the Bol d'Or (the Challenge Bol d'Or awarded for having won the race three times)
2001: World Champion of the Farr 40
2001: Winner of the America's Cup Jubilee
2002: 4th victory in the Bol d'Or
2003: Winner of the Louis Vuitton Challenger's Series for the America's Cup
2003: Winner of the 31st America's Cup
2003: 5th victory in the Bol d'Or
2004-2007: Winner of the Louis Vuitton Acts 3, 4, 6, 7, 8, 9, 11 and 13
2007: Winner of the 32nd America's Cup
2007: 1st victory in the D35 Championship
2008: 2nd victory in the D35 Championship
2008: Victory in the Trophée Clairefontaine
2008: 1st Extreme Sailing Series Championship win
2009: 3rd victory in the D35 Championship
2011: 6th victory in the Bol d'Or
2013: 4th victory in the D35 Championship
2014: 2nd victory in the Extreme Sailing Series
2014: 5th victory in the D35 Championship
Since April: Top-speed record on a GC32, with 39.2 knots
2016: 3rd victory in the Extreme Sailing Series
 
For more information, please visit:
www.d35trophy.com
www.extremesailingseries.com
 
Photos credit: Loris Von Siebenthal & Lloyd Images