Alinghi back on the podium in ESS
28 August, 2017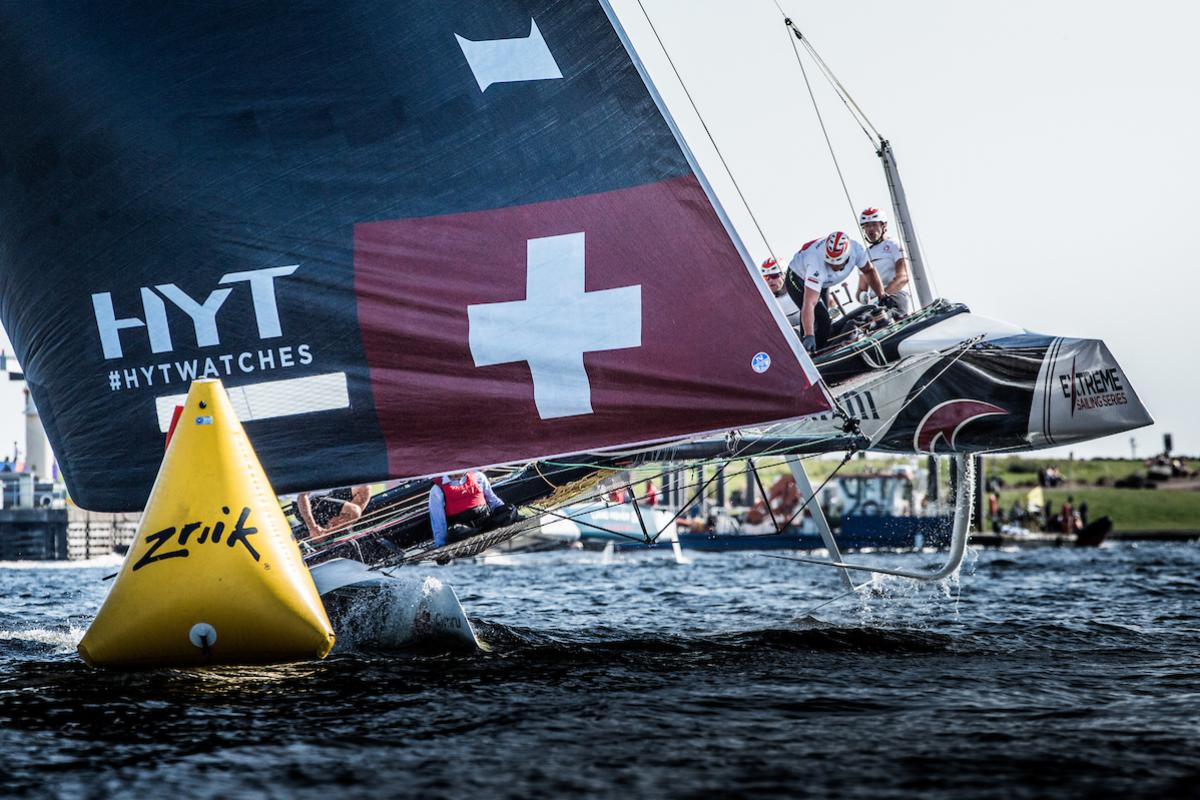 Confidence returned to the team in Cardiff with Alinghi very much in the running, neck-and-neck with SAP until the last race. The Danes win this time but the Swiss remain convinced that they can have the last word ...
 
SAP and Alinghi were the main players all afternoon and made the suspense last.
 
Tim Lapauw, foil trimmer, said:
"At the start of the first round we were four points behind SAP. We first lost one on them, then gained two, then lost three."
 
Fortunately the wind held and allowed racing to continue. The day's fourth race arrived: Alinghi wins, SAP finishes next-to-last. The gap between the two boats is just one point.
 
Tim continues: "After the fifth race of the day, we managed to be at the top of the provisional ranking, tied with SAP! The President of the race committee announced that the next race would be the last. Oman Air, 3rd, is nine points behind and therefore posing little menace."
 
And so, again, the winner of the Act would be decided in the last of the four day's faces, a shoot-out to decide who finishes in front of the other.
 
Nils Frei, headsail trimmer:
"In this last race, the situation on the start was badly assessed by us. Due to a big wind shift to the right, we remained stuck windward side of the committee, with SAP escaping.
In spite of that, we are happy with the way we sailed. We made some mistakes, but on the whole we were strong, both in speed, in manoeuvers and on starts, so it's very positive.
 
Pierre-Yves Jorand, Team Director: 
"I found in the team a combative and warlike attitude. We fought for each metre because it is important to stay in touch to place an attack and then to be able to pass a boat. In my opinion, this is our best ESS event since China with a regatta that was competitive until the last run, as so often is the case in the Extreme Sailing Series. "
 
Click here to watch the interviews of Tim, Nils and Pierre-Yves (in French) in their entirety.
 
Fans of the ESS will require patience, because the competition now breaks until October 19 for Act 7, which will take place in San Diego.
However, Alinghi will be back on track next weekend for the D35 Trophy's continuation on Lake Geneva!
Click here for the overall standings from Act 6
Click here for the overall standings of the Championship
To find out more
www.extremesailingseries.com
Hashtags for the event
#GoAlinghiGo // #Extremesailing
If you want to know more about how to follow the racing, about Alinghi's team, or just about this regatta in general, you will find all that you need by following this link.
Photos credit ©Lloyd Images