Ready for the final
27 November, 2018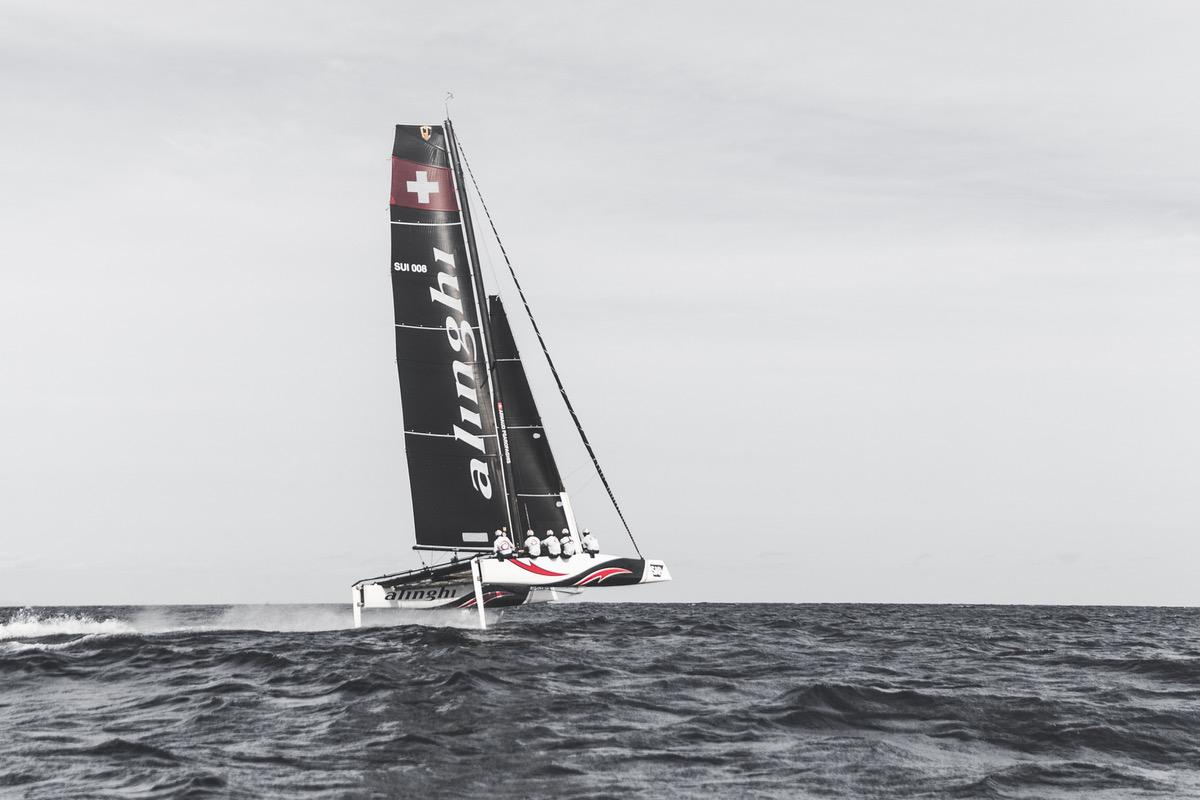 The denouement of the Extreme Sailing Series season is imminent and the team has been on site in Los Cabos for a week already so as to prepare as best it can for this Mexican leg of the 2018 championship.
In the current provisional standings, Alinghi leads the fleet by three points ahead of SAP, with five on Oman Air.
The fine print of this last Act: the scores for this final regatta will be double the usual points; the winning team will score 24 points (instead of the usual 12), the second 22, the 3rd 20...
This means that the Swiss can afford to finish one place behind SAP and two behind Oman Air, and still win the championship.
Though rest assured that the team will be going all out for the fifth win of the season in the Series!
Click here for the provisional general classification of the season:
 
What> final round of the 2018 Extreme Sailing Series Championship
Who> 7 international teams in the running, each with 5 sailors on board and a team in technical support
Where> Los Cabos, Mexico, Southern tip of Baja California (UTC-7 = -8h from Swiss)
When> official training session on Wednesday, November 28, and then four afternoon regattas from Thursday, November 29 to Sunday, December 2.
How> aboard GC32 catamarans that foil, with several races around the marks defining a course
Why> to win the 2018 Extreme Sailing Series Championship
Follow the action in Los Cabos
Here is how to follow the races that will be held from Thursday, November 29 to Sunday, December 2 from 14h to 17h local time (UTC -7, 8h less than in Switzerland):
Live
> via our website (races modeled in 3D Thursday and Friday, then live video on Saturday and Sunday)
> via our Twitter account @teamalinghi (results published after each race with some photos and short video moments)
On demand
> On Facebook and Instagram for video interviews and photos
> On our website for news and replays of the races
 
Alinghi's GC32 Crew
Helmsman, co-skipper: Arnaud Psarofaghis (SUI)
Tactician and mainsail trimmer: Nicolas Charbonnier (FRA)
Trimmer: Bryan Mettraux (SUI)
Foil trimmer: Timothé Lapauw (FRA)
Bowman: Yves Detrey (SUI)
Spare: Arthur Cevey (SUI)
Technical team:
João Cabeçadas (POR)
David Nikles (SUI)
Coach and Team Director:
Pierre-Yves Jorand (SUI)
 
Hashtags for the event
#GoAlinghiGo  //  #Extremesailing
 
To find out more
extremesailingseries.com
If you want to know more about the race tracking system, the team and the racing in general, you can find a recap here.
Credit for photos: Toast Prod