Alinghi second in Muscat, just pipping Oman Air
11 March, 2017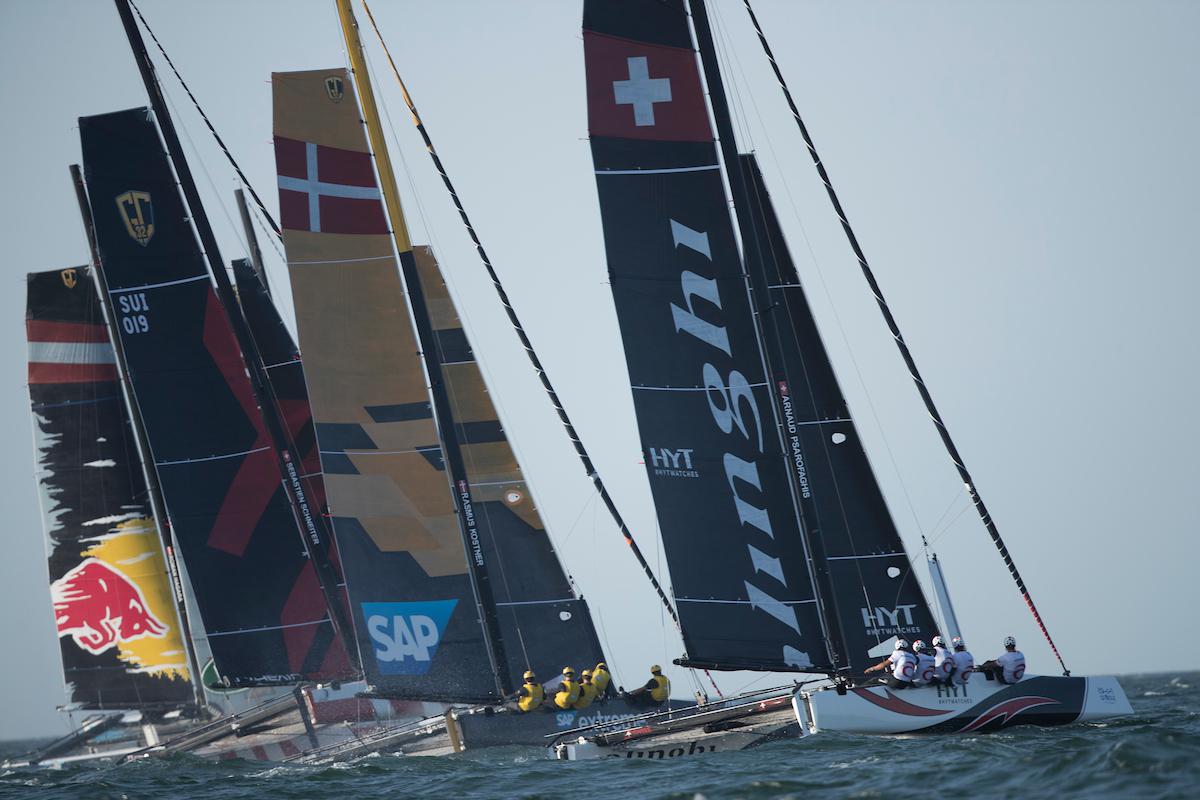 What a battle it was in Muscat! Having said yesterday how tight things stood at the top, we couldn't have envisaged just how true that would be. With 270 points assigned after 27 races, Oman Air and Alinghi were ultimately separated by the rule of whomever finishes ahead in the last race, wins the duel. Alinghi did and thus secured second place on the podium behind SAP Extreme Sailing Team, deserving winners of this first ESS Act of 2017.
Yves Detrey, Number 1:
"It was pretty Rock'n Roll on the water today! 20 knots of wind and big waves, in which the bow of the boat was literally crashing. It was intense, but we went there this morning with the desire to do well and we fought to the end to get this second place.
"We are tired physically after five busy weeks in Oman but happy with the result - very happy even."
Nicolas Charbonnier, tactician and mainsail trimmer:
"I'm happy when you win ... so I'm almost happy" (smiles ...). SAP sailed very well this week, it is a deserved victory. Let's focus on the fact that this is only the first test of a long season, so we have to just look to how we can build upon this performance."
Nils Frei, headsail trimmer:
"I would not be saying anything new if I were to say second place is better than third, but not as good as first, so we are happy, but remain focused on moving forward and on securing wins.
"It was really tight at the top of the rankings during those four days and we were able to move from fourth to third place, then today from third to second, so we are still satisfied."
Arnaud Psarofaghis, helmsman and co-skipper:
"At the start of the last race of the day, we were third overall, four points behind second, Oman Air.
"The sailors of SAP, on the other hand, were out in front and hardly reachable.
"We knew that we had to finish ahead of Oman and put a boat between them and us to finish second. For that, we had two options: either take the risk of blocking them at the start, or do our own race as best we could. We opted for the latter. Team Tilt won this last race, with SAP in second, us fifth and Oman seventh. Our thanks then to the Kiwis, Tawera Racing, who separated us from our rivals and enabled us to get second place on the podium.
"It's a good start to the season for us. We were not at our best but we are happy to finish at this place."
Pierre-Yves Jorand, coach:
"It was a day of sailing that had it all! 20 knots of wind, waves, speeds of more than 30 knots; we were part of a real spectacle.
The boys did a good job. They fought for every metre and, as so often happens, the final rankings were decided in the last race with the double point scoring system. Congratulations to the team, it is a good second place at the beginning of the season."
Ernesto Bertarelli, skipper (retained in Europe by his professional commitments, but who dialled in to offer his congratulations):
"The season as a whole is evaluated on the basis of the points that we accrue in each Act. The score we gained today is therefore an important one. I'm very happy with the team's work and the result. To see how they fought for four days is great and suggests we will be in for a close and exciting championship this year, so much so the better!"
 
The Alinghi team will see you at the end of March for the launch of its Decision 35 on Lake Geneva and at the end of April for Act 2 of the Extreme Sailing Series in Qingdao, China.
General ranking of the Oman Act 1 after 27 races:
1st - SAP Extreme Sailing Team (DEN): 286 points
2nd - ALINGHI (SUI): 270 points
3rd - OMAN AIR (OMA): 270 points
4th - Red Bull Sailing Team (AUT): 247 points
5th - Team Tilt (SUI): 235 points
Find all the results at: www.extremesailingseries.com/results
THE RECAP
What: 1st stage of the Extreme Sailing Series ™ 2017 circuit comprising eight events, in eight host cities, on three continents
Who: Nine international teams, each composed of five team members
Where: Muscat, Oman
When: Wednesday 8th to Saturday 11th March
How: Teams compete over short courses in front of the public on a 32 foot foiling catamaran: the GC32
For photos, videos & interviews:
> Online: www.alinghi.com & www.extremesailingseries.com
> Twitter @alinghiteam
> Facebook @teamalinghi
> Instagram @alinghi
Alinghi's GC32 Crew
Bowman: Yves Detrey (SUI)
Headsail trimmer: Nils Frei (SUI)
Foil Adjuster: Timothé Lapauw (FRA)
Tactician and mainsail trimmer: Nicolas Charbonnier (FRA)
Helm, co-skipper: Arnaud Psarofaghis (SUI)
Technical team
João Cabeçadas (POR)
David Nikles (SUI)
Coach and Team Leader
Pierre-Yves Jorand (SUI)
Hashtags for the event
#GoAlinghiGo
#Extremesailing
Photo credit
© Lloyd Images