End of Act 3: 2nd place, 3 points from the winner
2 July, 2017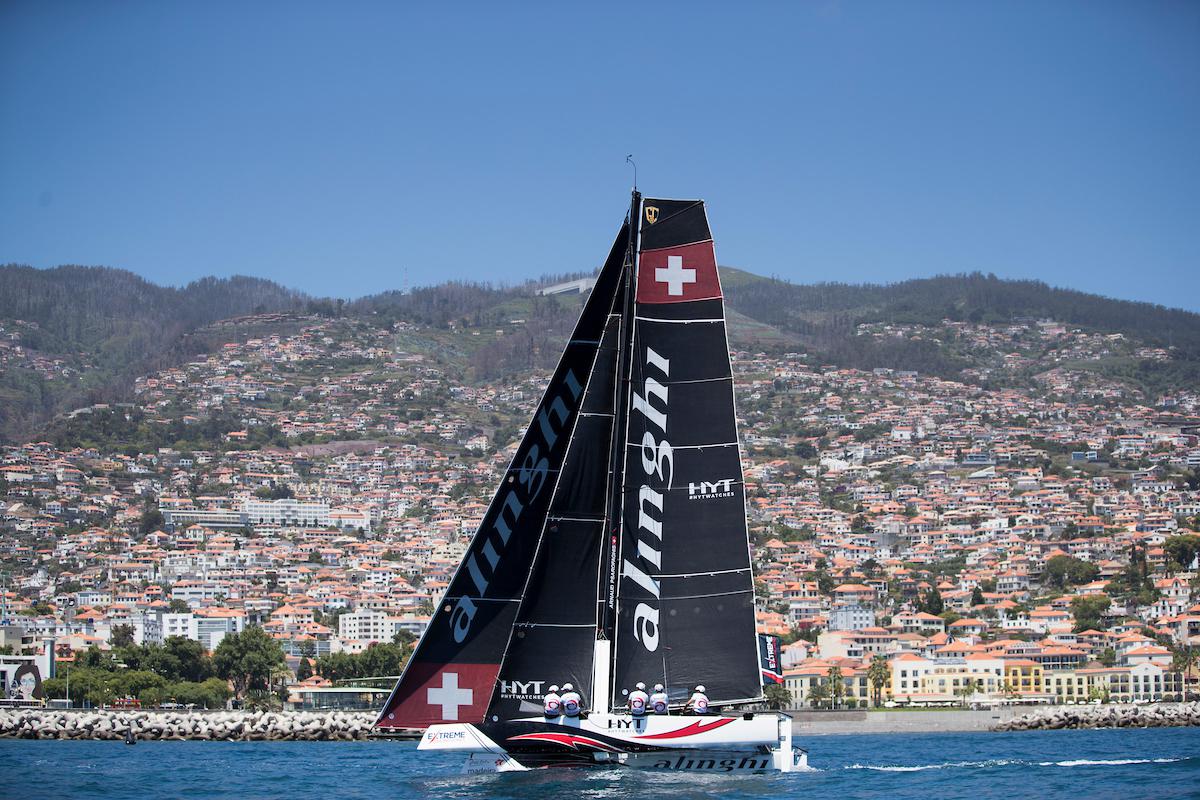 21 races in four days, 264 points distributed and, at the end, only three small points separating SAP Extreme Sailing Team and Alinghi, who finished in 2nd. Oman air completes the podium, five points behind.
The numbers speak for themselves and reflect the level of competition at the top of the table. Once again, the final order of the podium was in play until the last race, which, counting for double points, meant that the result was not secure and that the racing would be tense until the last.
Nils Frei, headsail trimmer, said: "It was a good day. We sailed really well in a light air, but unfortunately it was not quite enough to win the event. We had a lot to catch-up after the first day, which left us 11 points behind, but we narrowed that gap at the end to three. We sailed really solidly, but then so did SAP, who deserve the win here. Overall, it's a good result, with 2nd better than 3rd, for sure – it was the first day that probably cost us the victory."
Pierre-Yves Jorand, team leader, said: "It was today a great performance from the team. We had a hard first day, but then, they sailed super well. Overall we are one point ahead in the season rankings and we are already looking forward to the next event. Goodbye Madeira, it has been a fantastic venue with a wonderful crowd every day coming to watch the races."
 
Tim Lapauw, foil regulator and trimmer, said: "There were good races today in light wind. We were strong, but so too were SAP and we finish second. Of course, we started the week wanting to win, and that's what we'll aim for in the next event in Barcelona."
 
Click here to review the live prize ceremony on Facebook and the interviews of Nils and Pierre-Yves after the podium presentation.
After this stage in Portugal, Alinghi scores 34 points and still leads the provisional overall standings, one point ahead of SAP and four ahead of Oman air.
We will be meeting in Barcelona from Thursday 20 to Sunday 23 July for Act 4 of the Extreme Sailing Series. 
Click here for overall standings of Act 3
 
Click here for provisional overall standings of the championship
To find out more
www.extremesailingseries.com
 
Hashtags for the event
#GoAlinghiGo  //  #Extremesailing
 
If you want to know more about how to follow the racing, about Alinghi's team, or just about this regatta in general, you will find all that you need by following this link.
Photos credit
Lloyd Images