It's 'TBC' as to how the top three will be ordered
10 March, 2017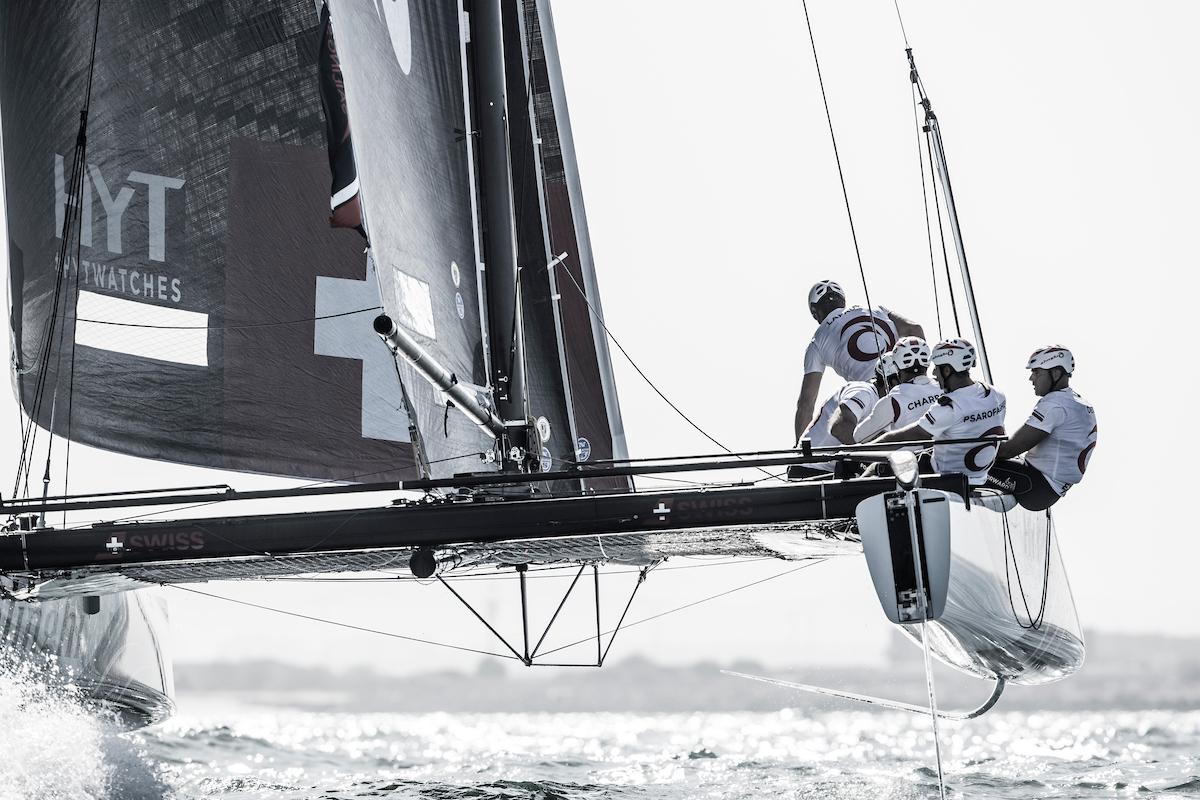 On the eve of the outcome of this Act 1 of the 2017 Extreme Sailing Series in Oman, the competition between the top three is fiercer than even yesterday. After 21 races, only four points separate SAP Extreme Sailing Team, Oman Air and Alinghi. We shall find out tomorrow, when, after the last race, the winner's name will be etched on the trophy. Things are so close that it could be a tie, but there's a rule for that: The boat best placed in the last race wins. It could come down to it...
Alinghi's youngest sailor, Tim Lapauw, joined the team's coach to shed some light on this busy day, and the tactics for tomorrow.
Tim Lapauw, foil trimmer: "It was super conditions in Oman for this penultimate day. The wind blew between 10 and 13 knots, which enabled us to do nine races, a record for one afternoon. I think we're all going to sleep well tonight!
"We are third overall, ready and waiting for SAP and Oman Air ahead of us. Red Bull are now a bit further back after a disqualification for a false start under the black flag rule, the equivalent of 12 points lost, and also suffered of less consistency at the front.
In terms of Alinghi, we had a great start to the day, moving to the top of the general standings after a couple of wins. They were then followed by a few fourth and fifth place finishes, which dropped us down the table, but we're still only three points off Oman Air in second, and four behind SAP, who lead. As always, it's tight and it will be decided tomorrow. We will give everything, because we are here to win!"
Pierre-Yves Jorand, coach: "Consistency, consistency, consistency – that's the key to success tomorrow. The team that finishes in the top three in the races most regularly will be the one that prevails. If the weather tomorrow is as favorable as it was today, there will be about 80 points on offer, which is a lot. It will be necessary to remain concentrated for three hours and leave no room for a possible slump.
"For example, today, the challenge lay in the mid-afternoon change to the type of start and to the course. It was therefore necessary to review our starting procedure methods and our subsequent strategies. In this game you have to adapt, and fast. If you don't, as some teams found, points can be lost.
"Finally, as we enter the fourth day, the physical condition becomes key, and not just the sailors, but the boat's materials too. As far as we are concerned, we arrived for some twenty days of sailing here in Oman. As we approach the end, the muscles are on fire and the boat's materials are getting close too. You can see the proof of this in how many teams needed maintenance periods in between each run. These GC32s are absolutely fantastic boats, but their complicated mechanics require a lot of maintenance. Tomorrow it will be a matter of having sailors well rested and a boat perfectly prepared. The team is already in bed after dinner at 6:30 pm and with João and David our boat is in excellent hands."
For tomorrow Saturday, check back at 1:30pm (local time) for the final day of this Act 1 broadcast live video on Facebook and Youtube. The awards' ceremony will be held at 5:30 pm (local time).
After 21 races, the overall standings of Act 1 of the 2017 ESS in Oman (12 points are awarded for a 1st place, 11 points for a 2nd, 10 points for a third etc.) read:
1st - SAP EXTREME SAILING TEAM (DEN): 116 points after the 2nd day + places today of 1st + 2nd + 4th + 3rd + 2nd + 6th + 1st + 4th + 2nd> 208 points
2nd - OMAN AIR (OMA): 117 pts + 4th, 5th, 2nd, 1st, 3rd, 3rd, 2nd, 1st, 6th> 207 points
3rd - ALINGHI (SUI): 114 pts + 3rd + 1st + 1st + 5th + 4th, 4th, 5th, 3rd, 1st> 204 points
4th - RED BULL SAILING TEAM (AUT): 116 pts + 5th + 4th + 8th + 8th + disqualified for premature start + 2nd, 3rd, 2nd, 8th> 185 points
5th - TEAM TILT (SUI): 93 pts + 2nd + 7th + 5th + 6th + 5th + 1st + 4th + 5th + 4th> 171 points
Find all the results at: www.extremesailingseries.com/results
THE RECAP
What: 1st stage of the Extreme Sailing Series ™ 2017 circuit comprising eight events, in eight host cities, on three continents
Who: Nine international teams, each composed of five team members
Where: Muscat, Oman
When: Wednesday 8th to Saturday 11th March
How: Teams compete over short courses in front of the public on a 32 foot foiling catamaran: the GC32
Tracking the racing
Follow the Alinghi team from the 8th to 11th of March (up to 10 races each afternoon – but be aware of the time difference: GMT + 4 hours, + 3 hours compared to Swiss time):
Online, via the Alinghi homepage (www.alinghi.com) or at www.extremesailingseries.com
> Races modeled in 3D from 9th to the 11th of March
> Live video on Friday 10th and Saturday 11th afternoon (from the beginning of the races, until the end)
> Replays available at the end of the races
On Twitter @alinghiteam
> Thread after each race
On Facebook @teamalinghi and Instagram @alinghi
> Video and video interviews throughout the regatta
Alinghi's GC32 Crew
Bowman: Yves Detrey (SUI)
Headsail trimmer: Nils Frei (SUI)
Foil Adjuster: Timothé Lapauw (FRA)
Tactician and mainsail trimmer: Nicolas Charbonnier (FRA)
Helm, co-skipper: Arnaud Psarofaghis (SUI)
Technical team
João Cabeçadas (POR)
David Nikles (SUI)
Coach and Team Leader
Pierre-Yves Jorand (SUI)
To find out more
www.extremesailingseries.com
Hashtags for the event
#GoAlinghiGo
#Extremesailing
Photo credit

© Lloyd Images