It's tight at the top in Oman!
9 March, 2017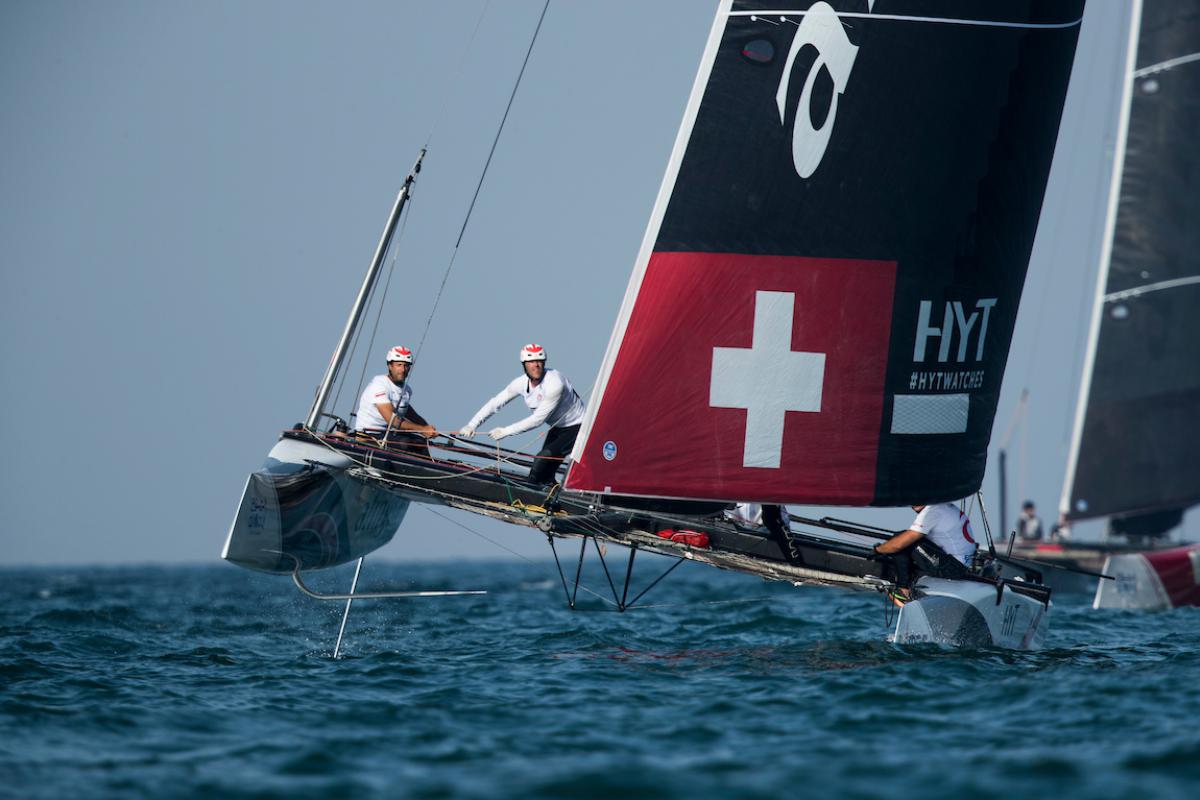 At the midway point of racing in Oman, four boats are competing at the top of the rankings having widened the gap on their pursuers. Oman Air took the lead tonight, just one point ahead of Red Bull Sailing Team alongside SAP Sailing Team. Alinghi lies in wait, two points behind.
As Nicolas (tactician) said yesterday, in the ESS a single race can upset the order, so it is not wise to think that anything is settled, either way. With each place worth a point, with several races per day, and with four contenders for victory not accustomed to easing the pressure on one another, the battle for the top is expected to rage until the last race of Saturday, a race that has the added interest of counting for double points.
Nils Frei, headsail trimmer:
"This second day of racing started with 10-11 knots of wind, but it quickly faded to seven. In other words, it was a real day of light wind, with a flat sea, little foiling and gentle passing manoeuvres in the afternoon.
"We were still able to run five races with us recording three third place finishes, one fifth and then a first in the last race of the day. Now that we have opened our account for wins this season, it's our job to increase the balance!
"Overall, it has been a good series for us. We achieved the second best performance of the day (after Oman Air) and nibbled away at those ahead of us. That said, we can still sail better. I think we were at a slightly higher level at the end of last year, so we have to continue to refine a few small points to once again be at the top. Anyway, everything remains open over the next two days given the small gap separating the top four - we have to treat each race as a blank slate."
Tomorrow, Friday, the start of the first possible race has been advanced to 1pm due to lighter weather forecast than today. Here's hoping that the wind up when the teams line up!
The live video online will start at the beginning of the regattas.
After day two, the general classification after 12 races (12 points are awarded for a 1st place, 11 points for a 2nd, 10 points for a third etc.) reads:
1st - Oman Air (OMA): 65 points after the 1st day + places today of 4th, 4th, 2nd, 1st, 2nd> 117 points
2nd - Red Bull S.T. (AUT): 68 pts + 2nd + 2nd + 4th + 6th + 3rd> 116 points
3rd - SAP Extreme S.T. (DEN): 69 pts + 1st + 6th + 1st + 2nd + 8th> 116 points
4th - Alinghi (SUI): 64 pts + 5th + 3rd + 3rd + 3rd + 1st> 114 points
5th - Team Tilt (SUI): 54 pts + 8th + 1st + 5th + 5th + 7th> 93 points
Find all the results at: www.extremesailingseries.com/results
THE RECAP
What: 1st stage of the Extreme Sailing Series ™ 2017 circuit comprising eight events, in eight host cities, on three continents
Who: Nine international teams, each composed of five team members
Where: Muscat, Oman
When: Wednesday 8th to Saturday 11th March
How: Teams compete over short courses in front of the public on a 32 foot foiling catamaran: the GC32
Tracking the racing
Follow the Alinghi team from the 8th to 11th of March (up to 10 races each afternoon – but be aware of the time difference: GMT + 4 hours, + 3 hours compared to Swiss time):
Online, via the Alinghi homepage (www.alinghi.com) or at www.extremesailingseries.com
> Races modeled in 3D from 9th to the 11th of March
> 3hrs of live images on Friday 10th and Saturday 11th afternoon (from the beginning of the races, until the end)
> Replays available at the end of the races
On Twitter @alinghiteam
> Thread after each race
On Facebook @teamalinghi and Instagram @alinghi
> Video and video interviews throughout the regatta
Alinghi's GC32 Crew
Bowman: Yves Detrey (SUI)
Headsail trimmer: Nils Frei (SUI)
Foil Adjuster: Timothé Lapauw (FRA)
Tactician and mainsail trimmer: Nicolas Charbonnier (FRA)
Helm, co-skipper: Arnaud Psarofaghis (SUI)
Technical team
João Cabeçadas (POR)
David Nikles (SUI)
Coach and Team Leader
Pierre-Yves Jorand (SUI)
To find out more
www.extremesailingseries.com
Hashtags for the event
#GoAlinghiGo
#Extremesailing
Photo credit
 © Lloyd Images