At the last, Alinghi seals victory in Cardiff
27 August, 2018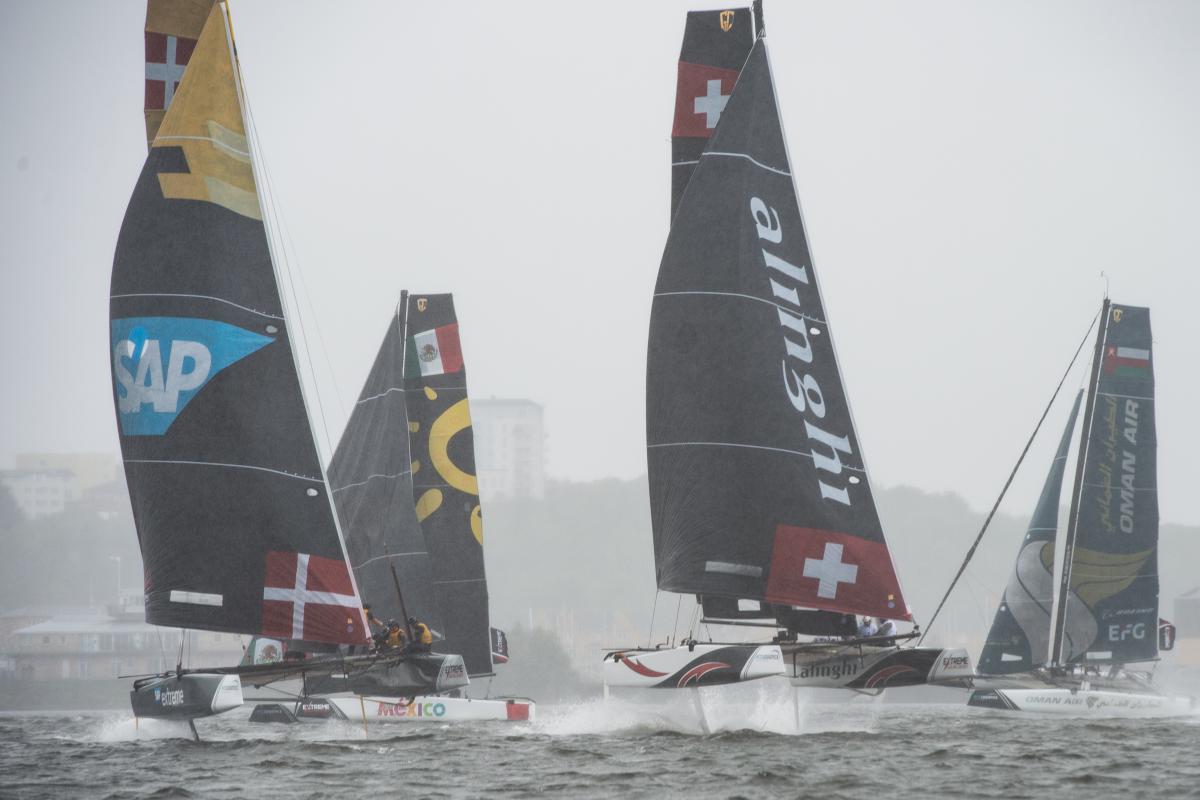 After 29 races, it, once again, came down to the very last run in this Extreme Sailing Series' Act in Cardiff to decide the podium places.
With just a single point separating Alinghi and SAP ahead of the deciding race, the Swiss needed, first, to finish ahead of their rivals, but also to keep a keen eye on Oman Air, who, if they'd managed to put three boats between them and the team, could have taken the Act win too. As the fleet crossed the start-line that scenario wasn't too far-fetched.
Arnaud Psarofaghis, helmsman, said:
"Seeing SAP make an early start on the last race was pretty good for us. Then they came back into the game, but we did not give up and finished right in front of them, to finally win in Cardiff...for the very first time in six visits here!
"There are still two Acts to go this season. With our team being only two points ahead of the Danes and the last Act counting for double, we will stay focused until the end and apply the same rigorous method that has got us this far."
Nicolas Charbonnier, tactician, said:
"It was a complex event with four windy days, incessant changes in position and a difficult start for us following Nils's groin injury during the first run. Our reserve teammate, Bryan Mettraux, joined us on the second day and, little by little, we worked hard to recover the deficit we'd accumulated after the first day. Once again, it proves that nothing is ever finished, even after what seems a bad run of luck."
Bryan Mettraux, headsail trimmer, said:
"Having been seven points down this morning on SAP, we had to take risks and with four wins on the first runs this afternoon that's where we made the difference."
Pierre-Yves Jorand, team director, said:
"I'm proud of the team's work this week. Cardiff is a demanding nautical stadium due to its small racing area and shifty wind, especially when it blows four days in a row. In fact, anything can happen at any moment!"
While it was a good result for the team - and one that sees them gain a point on their Championship rivals, SAP - everything suggests it could come down to the wire in this 2018 Series.
In the meantime, the team is already looking forward to this weekend's D35 racing on the Lake hosted by the Yacht Club de Genève from August 31st to September 2nd.
 
Click here for the general ranking of Act 5 after 29 races.
Event hashtags
#GoAlinghiGo // #Extremesailing
To find out more
extremesailingseries.com
If you want to know more about Alinghi's team or just about this regatta in general, you will find all that you need here.
Photos credit: Vincent Curutchet / Lloyd Images