The leaders to the front
30 November, 2017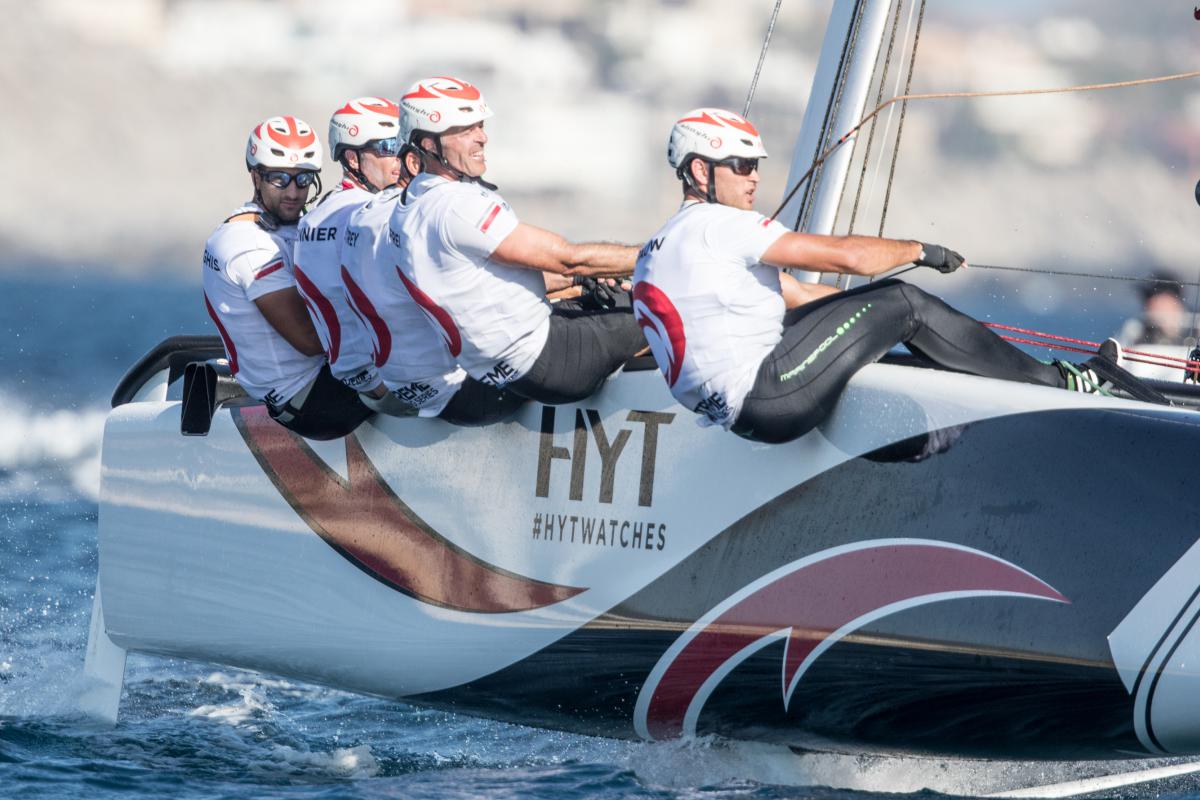 Six races were launched in five to 15 knots of wind. Alinghi recorded five podium finishes and a race win: In the opinion of Nils Frei, it was a "correct day" for the team, which lies in 2nd position, between Oman, who lead the event, and SAP, two points behind.
Nils Frei, headsail trimmer said:
"With this westerly wind and the position of the race zone close to the shore, we had some tricky conditions. It meant there were lots of changes in terms of the force and direction of the wind, making race management difficult. It must be admitted that Oman Air sailed very well. With their five second places and a win, they claimed a lead of a few points, but it's still tight and of course there are three days left with plenty of points to fight for.
"And, frankly, it wasn't that they were faster than us or performed better manoeuvres. They were just more consistent. On our side, we dropped a few points because of some bad decisions. We didn't have total success on some crosses with the opponents either, so overall we can say that we're moderately happy tonight.
"As for SAP behind us, they had a last place finish that cost them a lot of points. Honestly, though, I don't think they're deliberately aiming for third place [which would be enough to secure them the title]. The rankings can change so quickly, that they and everyone has to aim for the win every time."
Did you know?
In six races, Alinghi's sailors have:
- Realised the most manoeuvres of the fleet, with 41 tacks and 17 gybes (vs 27 ad 11 for Team Extreme Mexico)
- Achieved the best average downwind speed with 18.2 knots (vs 15.93 for Lupe Tortilla)
- Traveled 36.45km (vs 35.84 for Oman Air and 38.67 for Lupe Tortilla)
- Hit a peak speed of 32.93 knots (vs 27.91 for Red Bull and 33.69 for SAP)
For more data analysis like this, just visit the SAP Sailing Analytics site.
The action will resume tomorrow at 2pm local time (UTC-7 = 8 hours behind Swiss time), which you can follow live or on demand by clicking here.
Find the overall standings after six races in Los Cabos here.
Hashtags for the event
#GoAlinghiGo // #Extremesailing
To find out more
www.extremesailingseries.com
Photos credit ©Lloyd Images
If you want to know more about how to follow the racing, about Alinghi's team, or just about this regatta in general, you will find all that you need here.