Oman Air a touch above the rest; Alinghi 2nd
4 August, 2019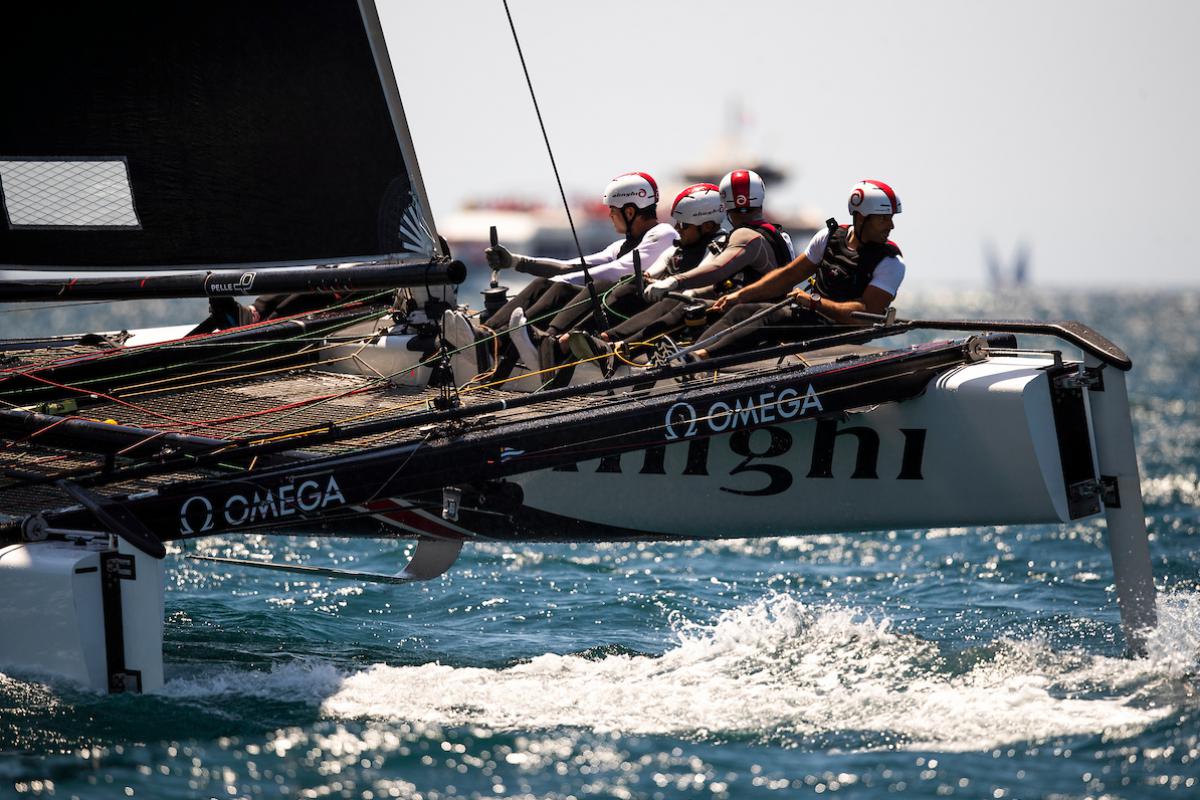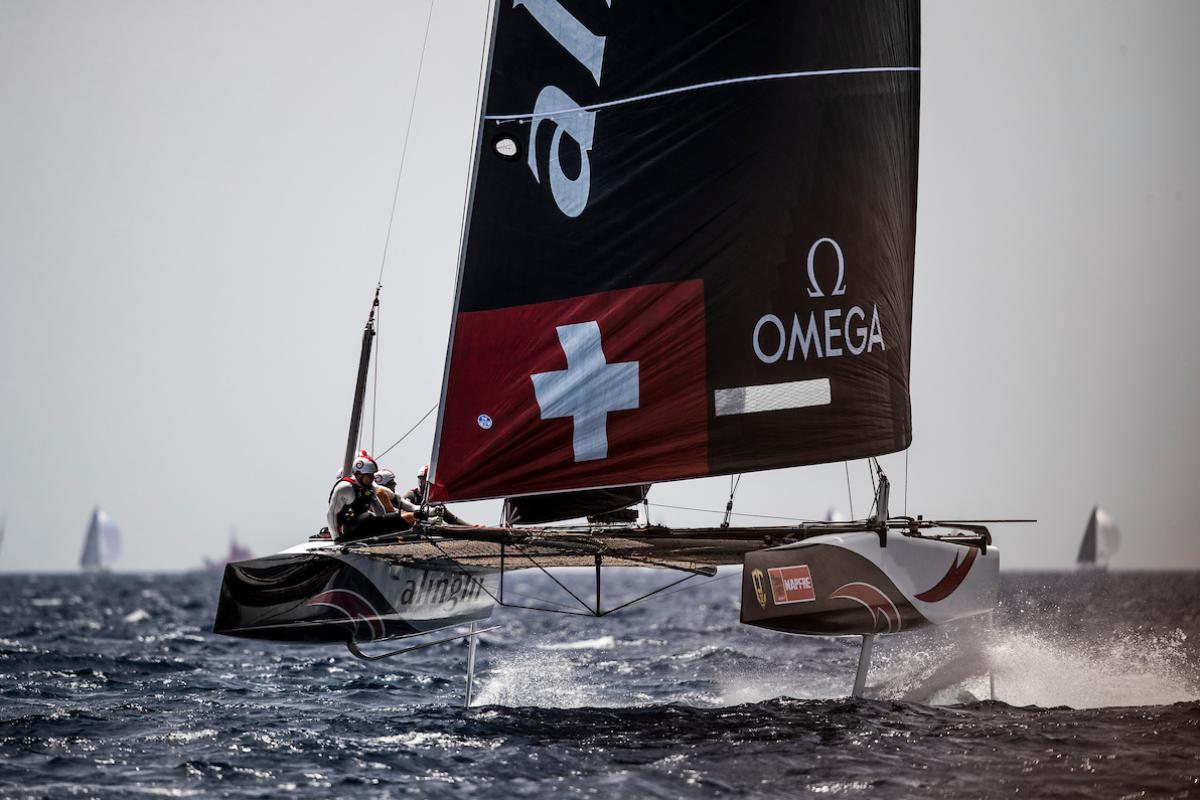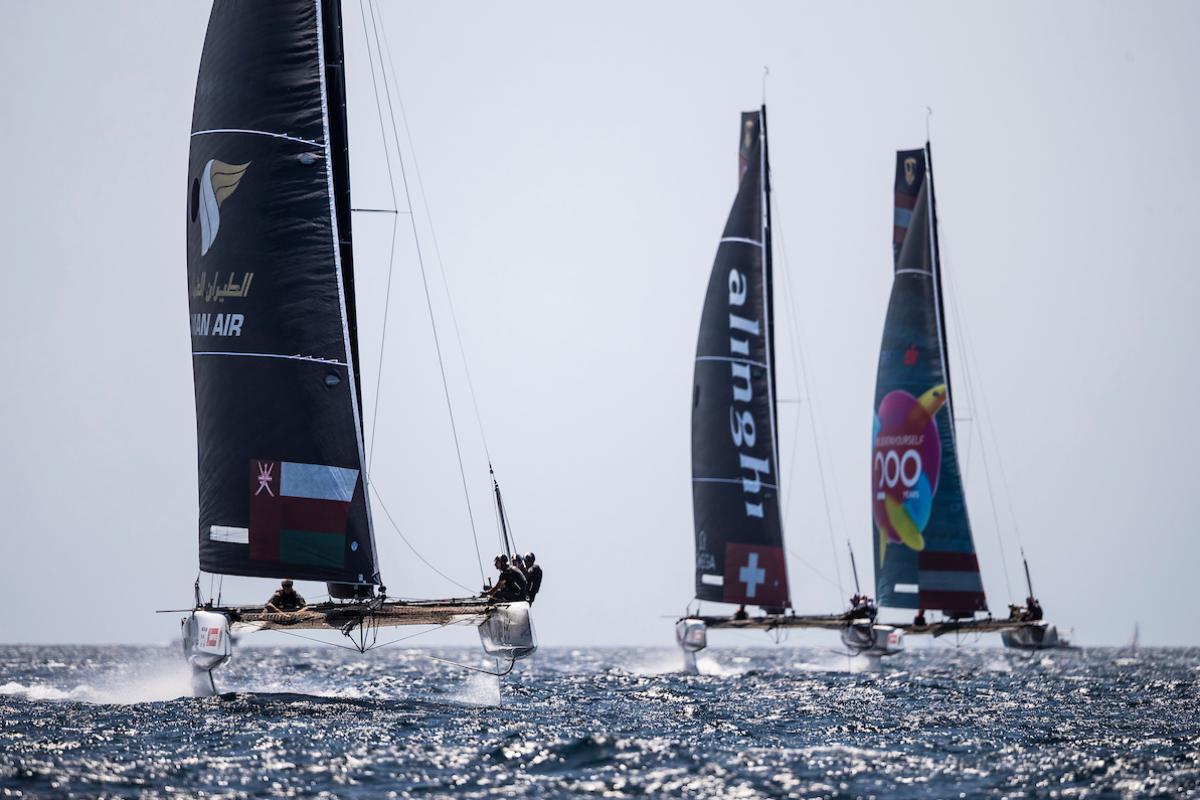 132 boats spread over four race areas, 26 nationalities and some 1,500 sailors came together in Palma de Mallorca for the traditional Copa del Rey, the 38th of its name. The 3rd stage of the GC32 Racing Tour circuit coincides with this great event and is an exception in the tour's annual calendar, given that the boats joined 10 other classes for a regatta put on by the well-oiled organisation over the course of the week.
As usual, the Bay of Palma delivered very good sailing conditions and all 20 races on the GC32 programme were run.
This time, it was Oman Air which showed greatest consistency and control of the foiling monotype catamaran. The battle between the two leaders raged to the end and, mathematically, the final result was not certain until the last race. But Oman Air did hold firm and won the last two rounds of the day, bringing their total to ten wins from 20, with Alinghi registering seven. And so five small points separated the two rivals after four days of fleet racing...and some phases of match racing (fans of our Instagram stories will be able to identify the moments ;-).
Yves Detrey, bowman:
"It was a great last day of racing against Oman Air. They were trying to make us lose ground when they were in front, and we did the same when we were in the lead.
"As for the final result, we can only blame ourselves for not having sailed very well the first two days. In a small fleet, if you want to win, you have to race well from beginning to end.
"Oman Air did it. They win, it's deserved.
"I think we cannot always win when we compete. But you have to know how to stay on the lookout for the next event and keep learning. In Riva in September, there is no question of attacking Oman from the beginning. We will sail our modes, apply our manoeuvres and unfold our game as we did in the World Championship, and everything will be fine."
Pierre-Yves Jorand, Team Director:
"Oman Air delivered a very complete game in terms of performance, manoeuvres, strategy and also on the starts throughout these 20 races with varied conditions.
"On our side, we sailed a little below our level. We are not looking for excuses, though we have had a busy start to the season, not least with the World Championship, which was a big goal for us. I would also say that arriving in Palma with a slightly smaller fleet (six boats instead of 10), made a difference, removing a little of the extra spice and it does not take much in that scenario for the game to tighten. Indeed, we made some small positioning errors on the first day, we were less incisive than Oman in key moments like starts and we had trouble finding stability on the second day in choppy water.
"We know what we must do to win next. We have the solutions. It's up to us to apply them and deliver a better result over four days in a row."
Is it possible to win each regatta?
"In high-level mechanical sports, it seems difficult. Sailing is a mechanical sport and a team sport. It takes individual performance, that each team member is at his best, and that they interact perfectly, that everyone is in the same dynamic.
"I think that Oman worked a lot after Lagos (note: they finished 5th in the Worlds, a real under-performance for such a great team). They learnt from our manoeuvres, studied our game and came here a bit stronger. As in any high-level sport, a little improvement can be enough to pass the shoulder of your rival.
"But let's be careful, I do not see any revolution to apply between here and Lake Garda. We will simply have to succeed in bringing our best game, as we did in five stages last year and as in Lagos a month ago."
 
After three events and following their victory, Oman Air sits alongside the top of the tour's overall standings with five points. Could this be a harbinger for other match racing sequences between us two in the last two stages of the season?! Red Bull follows with 12 points.
From today (and once the GC32 is in its container), the team will head to Switzerland to help prepare the very first TF35, freshly arrived at Société Nautique de Genève. The first test sailings are expected by mid-August.
From August 30th to September 1st, the 5th D35 Trophy will be organized by the Yacht Club de Genève.
Click here for the 3rd event general ranking after 20 races.
To find out more
gc32racingtour.com
#gc32racingtour
#GoAlinghiGo
To find out more about how to follow the racing, the team composition and the circuit in general, find the event recap by clicking here.
Photo credits
©Sailing Energy/GC32 Racing Tour