Placed for the final assault
3 December, 2017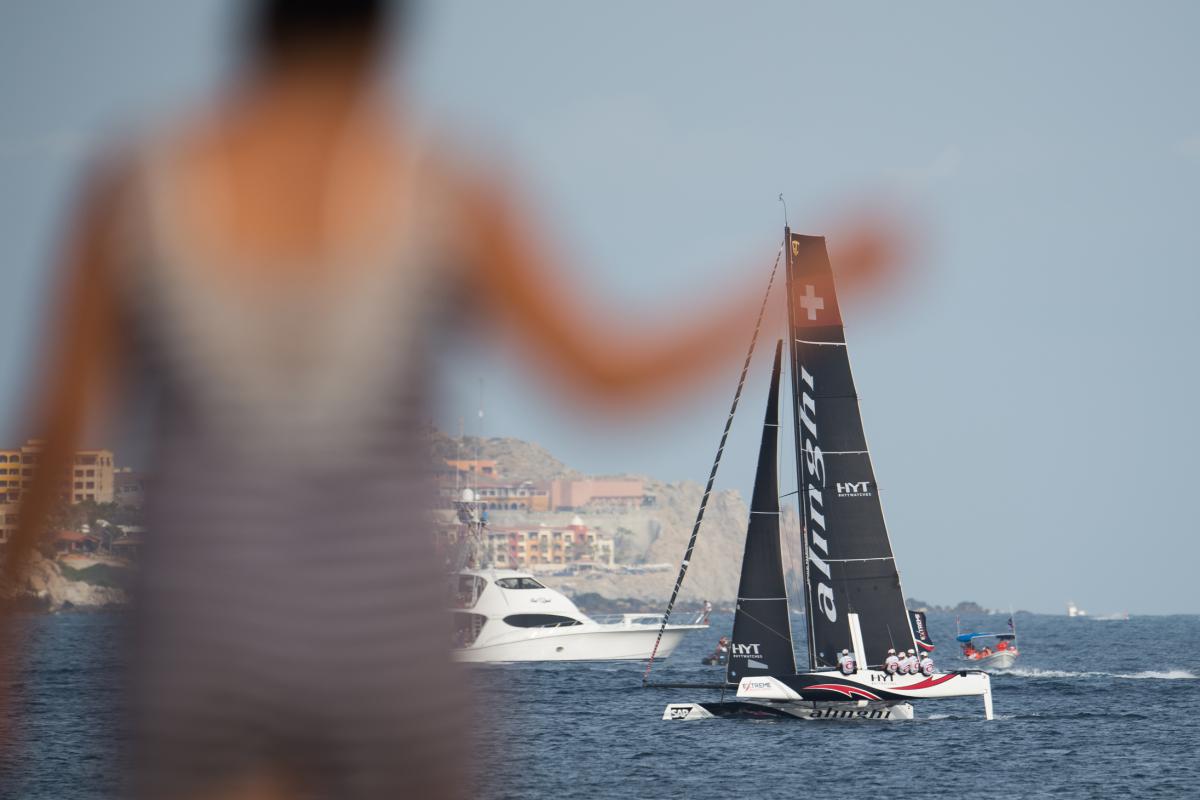 In two days and over 11 races, Alinghi won a remarkable nine. The team has consolidated its lead in the Act, but it still lacks a further boat to come between them and SAP, which is necessary in order to clinch the victory in the annual championship. Will salvation come from the Red Bull Sailing Team? Currently they lie in 4th place, 12 points behind SAP. As such, it seems a tough ask, but with five to six races scheduled tomorrow and a final race that counts for double points, anything can happen.
On Alinghi's side, the team will, of course, continue to race as we have done until today to confirm our first place in the Act 8, we will try to put pressure on SAP and, maybe, we might consider also giving a boost to the "bull-boat with wings"...
Yves Detrey, bowman, said:
"The first race of the day was like a cold shower. In fact, we did not see NZ Extreme arrive on starboard, so we had to last minute tack under them and then tack once again to get to the next mark. Obviously that meant we lost ground and position, with no possibility of recovery, finishing last. After this brutal awakening, we returned to our previous form and nailed four consecutive victories! We made pretty decent starts, we sailed on good lines with good speed and our manoeuvres were excellent. After a slump this summer during Act 5, I would say that we have reached again the level of sailing from the end of last season when we won everything."
Arnaud Psarofaghis, helm and co-skipper:
"The crew did a great job today, manoeuvering the boat and tactically. After a very bad first race we managed to turn the tide to win all the others and position ourselves to have a chance of going for the Championship tomorrow. We will aim to win this event, but also to finish as far above SAP as possible, which is our chance for the title. It's up to us now to get back to the top of the podium."
See you tomorrow at 2 pm local time (UTC-7, 8h less than in Switzerland) for the closing of Act 8 and the 2017 season, which you can follow live or replay by clicking here.
And for the standings after the 17 races so far, click here.
Hashtags for the event
#GoAlinghiGo // #Extremesailing
To find out more
www.extremesailingseries.com
Photo credit ©Lloyd Images
To find out more about the race tracking system, team composition and the event in general, you can find the event recap by clicking here.