Promising beginnings
20 October, 2017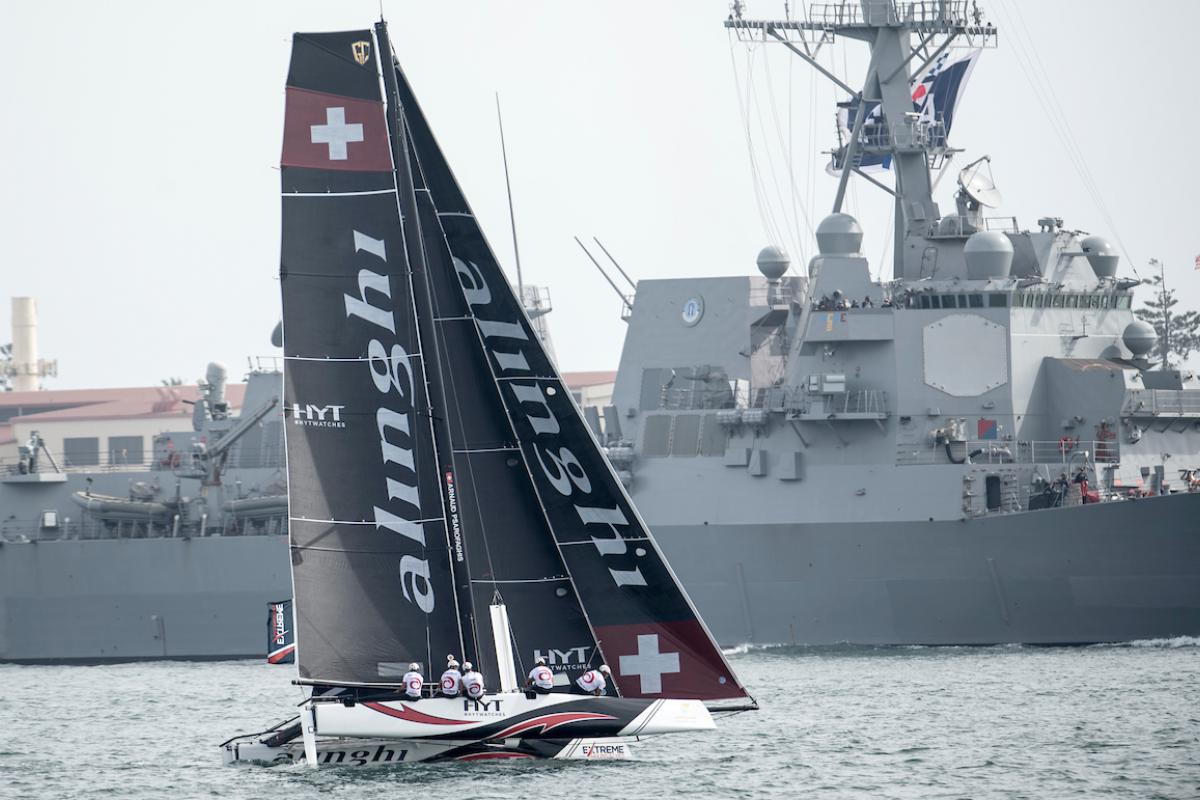 What better way to start a regatta than by leading the fleet after six races and the first day of competition? Yesterday afternoon in the San Diego bay, Alinghi were consistently among the leaders, despite the challenges posed by the unique current, wind variations and even algae.
From the outside, the red-white-black GC32 catamaran looked fast, at ease and quicker to get on its foils than its opponents.
On the inside, Nils Frei, the team's headsail trimmer, confirmed the impression:
"It was a very positive day for us. We were pretty quick and as the races were long – longer than normal – it meant we could get back into the race even if we'd made an OCS (over the starting line early), as happened twice, and had to let all the other teams pass us. The other teams sailed really well too, like the Land Rover BAR Academy guys, with whom we were tied after five races. Throughout the day, but especially on the last run where the wind dropped at the end, we knew we had to be patient in every moment. That's probably where we made a difference."
Click here to watch Nils's interview in its entirety.
Nothing is settled, as there are still three more days of racing to go and only a few points separating the leaders, with all of the teams very solid and very eager to win, and very ready to fight right up until the last. But, after all, what Alinghi achieved on the first day is firmly in the locker.
The action will resume tomorrow at 2pm local time (UTC-7 = 9 hours behind Swiss time), which you can follow live or on demand by clicking here.
Find the overall standings in San Diego here.
Hashtags for the event
#GoAlinghiGo  //  #Extremesailing
To find out more
www.extremesailingseries.com
Photos credit ©Lloyd Images
If you want to know more about how to follow the racing, about Alinghi's team, or just about this regatta in general, you will find all that you need here.