Status quo among the leaders
1 July, 2017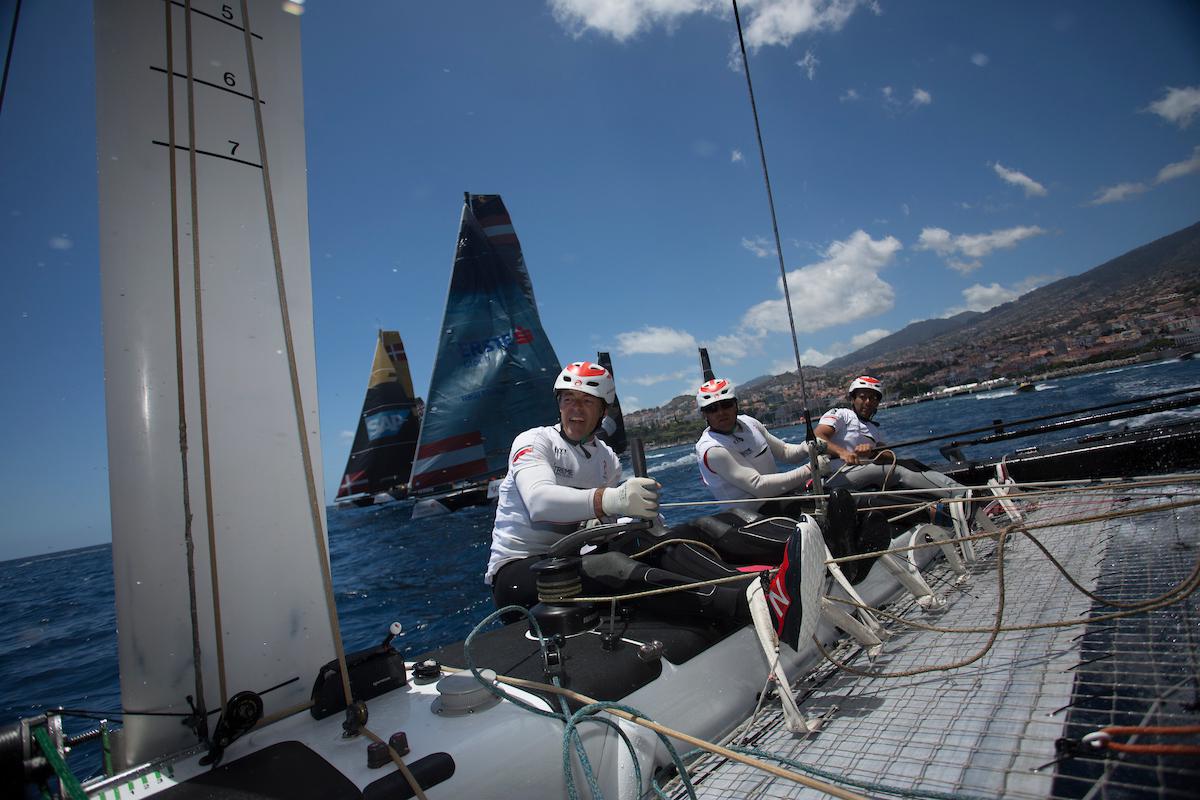 In eight races on the second day in Madeira, the leading trio scored almost exactly the same number of points!
SAP Extreme Sailing Team: 84 points. Oman Air: 85 points. Alinghi: 85 points.
The battle rages around the marks and no crew intends to give an inch.
At the halfway point of Act 3, there is no major change at the top of the table, except for the small point gained by the Omanis and the Swiss on the Danes leading the fleet, six points ahead of Oman Air and ten on Alinghi.
Tim Lapauw, foil regulator and trimmer said: "Great day, though a bit tiring with eight races in just three hours, but so it goes! The venue is superb, it is a bit complicated to read the wind shifts, but it's nice, it is hot and there were good sailing conditions with a wind blowing between 8 and 12 knots.
"We can see the public coming to follow the regattas and on each finish line we hear the applause and encouragement, which is great for us.
 
"The key to success tomorrow will be making good starts. We know that if we are ahead at the first mark, we have all the strengths to remain so until the end."
Click here to view Tim's interview in its entirety. He discusses in detail this second day of racing and returns to his recent experience at the Red Bull Youth America's Cup, with Team France Jeune (A good exercise to practice your French ;)
Check back tomorrow at 2pm (local time, -1 hour from Swiss) for the continuation of this competition, which you can also follow live (video & 3D graphics) by clicking here from 2pm.
For overall standings
www.extremesailingseries.com/results
 
Hashtags for the event
#GoAlinghiGo  //  #Extremesailing
 
If you want to know more about how to follow the racing, about Alinghi's team, or just about this regatta in general, you will find all that you need by following this link.
Photos credit
Lloyd Images