Towards a crescendo in Qingdao
30 April, 2017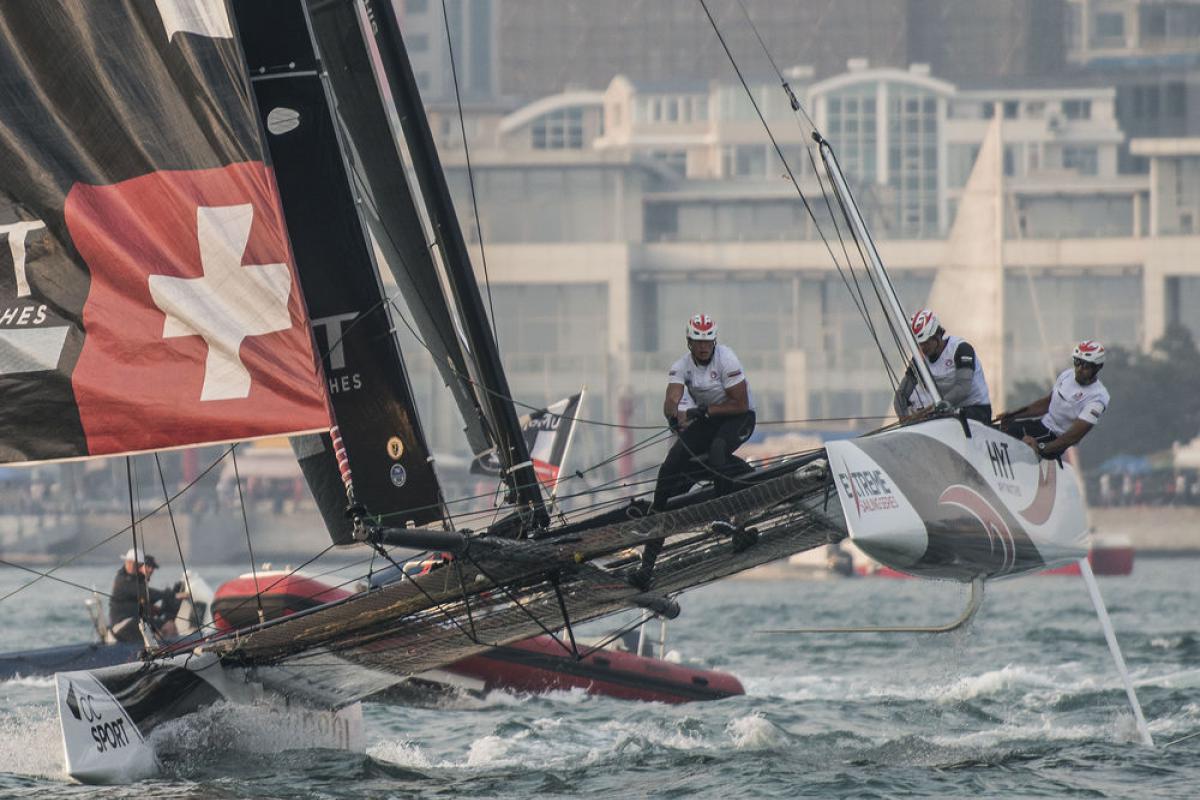 We had been warned of the 'random' nature of the local weather and Qingdao is keeping all of its promises! The waters within Fushan Bay, a nautical stadium bracketed by two sea walls and the city's coastline, delivered a range of conditions this afternoon, going from weak airs to abrupt gusts of over 25 knots, as recorded by the measuring equipment on board.
As the wind increased, so too, did the speed of the racing legs, meaning that zone in which the boats sailed is limited by natural barriers. The more the wind rose, the more the GC32 began to lift on their hulls, then up onto their foils, making for an excellent spectacle for the astonished Chinese watching crowds, whose cries of "Ohhhhh" and "Whaaaa" of surprise gave voice to how fun it was to watch.
As the wind increased, however, the boats became more difficult to manage and it took all of the sailors' talents to keep them on the right lines and under their control. In that context, Alinghi even narrowly avoided capsizing on the exit to a jibe (the images are obviously online!).
In the end, seven validated races were run under a variety of conditions in which the young teams of Land Rover BAR Academy and NZ Extreme Sailing Team performed very well to join Alinghi on the provisional podium. The Swiss team keeps its first place and will start the final day of this Act 2 four small points ahead, a sign of great battles to be anticipated tomorrow!
Straight after « hoisting João » up in the rig, Bryan Mettraux shares his impressions of the day in a video on our Facebook page.
See you tomorrow at 2pm (local time) for the 4th and final day of this ESS Act in a China.
After the ten races (12 points are awarded for a 1st place, 11 points for a 2nd, 10 points for a third etc.) the overall standings are:
1st - Alinghi (SUI) : 102 points
2nd - Land Rover BAR Academy (GBR) : 98 points
3rd - NZ Extreme Sailing Team (NZL) : 96 points
4th - SAP Extreme Sailing Team (DEN) : 90 points
5th - Red Bull Sailing Team (AUT) : 89 points
Find all the results at: www.extremesailingseries.com/results
To find out more
www.extremesailingseries.com
Credit for photos
© Sean team, Xaume Olleros et Alinghi
If you want to know more about how to follow the racing, about Alinghi's team, or just about this regatta in general, you will find all that you need in the recap at the bottom of this news story.
#GoAlinghiGo