A win on the lake secured with a race in hand
7 May, 2017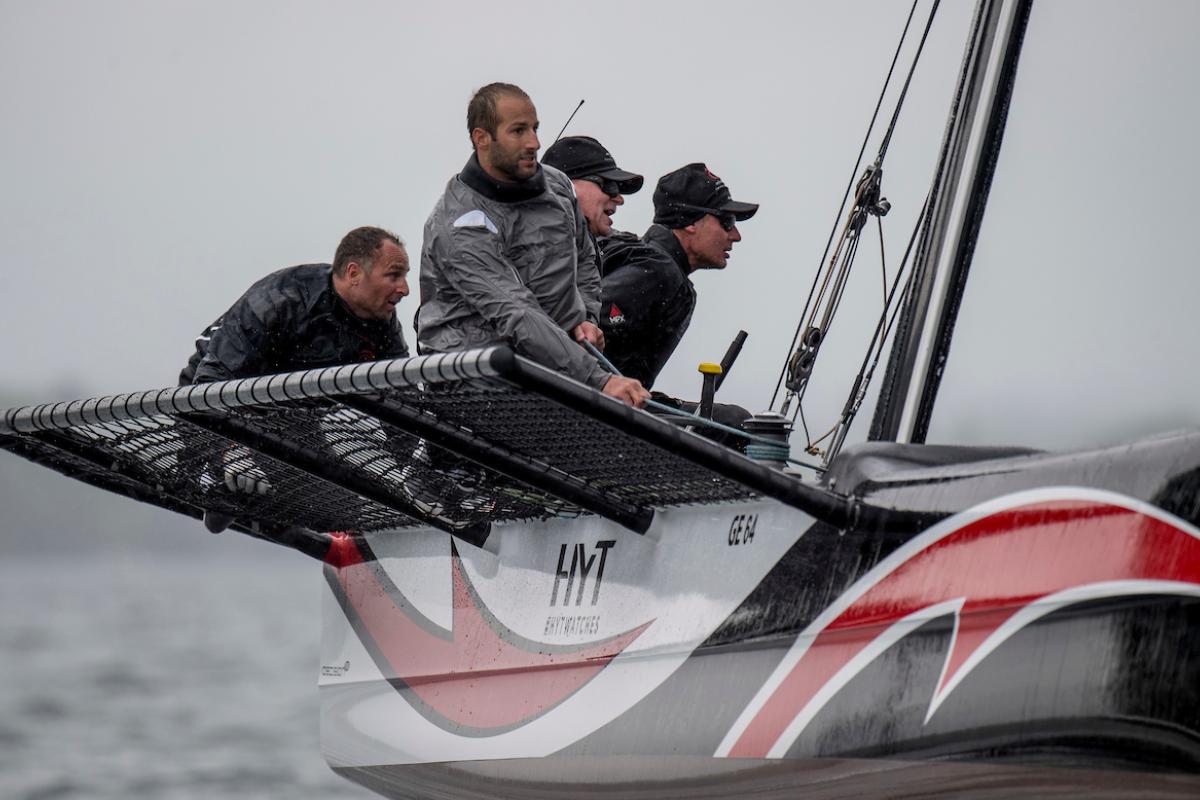 Having built up a lead over the rest of the field after the first two days of racing in the opening Grand Prix of the D35 Trophy, Ernesto Bertarelli's Alinghi could afford to sit back a bit, focusing on staying out of trouble and protecting their lead. This, amid the rain and patchy wind on Lake Geneva, they did, finishing mid-fleet in the day's opening four races before stamping their authority with a convincing win in Race 12 that secured the victory even with the final race still to be launched.
Following on from last weekend's GC32 win in China, this D35 performance caps an excellent couple of weeks for the team. Afterwards, the crew reflected on a job well done:
Ernesto Bertarelli, helmsman and skipper: "We had very good wind conditions in the last two days, which made for very competitive races with a fleet very close to one another in terms of speed and talent, making for races in which positions were interchanged regularly. I think this regatta was won in our ability to improve on seemingly bad positions in races, picking up important points. That was the difference.
"We are, of course, happy to have won and it's a victory more special because of the return of Pierre-Yves to the crew after a year off the water and who has stepped-up in Nils's injury-enforced absence.
"Finally, I would like to thank all the volunteers who did so much to organise the event over its three days and who are out on the water come rain or shine - more often rain this weekend!"
Arnaud Psarofaghis, headsail trimmer: "We did well and were pleased to win the Grand Prix in the penultimate race​, meaning we didn't need to participate in the last. We chose to take that option in order to let the others fight for second place without us influencing the race."
Nicolas Charbonnier, tactician: "We had enough points to secure first place, so decided to exercise our option not to line-up for the start of the last. In the D35, as opposed to Extreme Sailing Series, a team's worst score is scratched, meaning our 'DNF' would not have counted in our tally, as we'd previously finished higher than the equivalent last place. With a nine point cushion over second, our decision was also influenced by the fact that these boats are quite fragile and there is no point seeking out risking it being damaged if, as we were, you are in a position to avoid it. Overall, it was a really good Grand Prix and, of course, we are very happy with the outcome."
Yves Detrey, bowman: "It has been a great couple of weeks - we won in China and came directly to this Grand Prix, in which we've continued our winning form. It's also nice, after all this sailing, to have a week break ahead of the next Grand Prix."
Next race: D35 Open de Versoix, 19th - 21st May.
Final results
Alinghi: 34 points
Zen Too: 43 points
Okalys: 49 points
Ylliam Comptoir Immobilier : 49 points
Racing Django: 54 points
Realteam: 54 points
Swisscom: 59 points
Mobimo: 65 points
To find out more
d35trophy.com
Credit for photos
© Loris von Siebenthal
If you want to know more about how to follow the racing, about Alinghi's team, or just about this regatta in general, you will find all that you need in the recap at the bottom of this news story.
#GoAlinghiGo